sunshine and spaceships...
After talking about an Indian Summer yesterday it has been cold, wet and rainy but I'm not ready to give up talking about Summer yet!
So lets have a little early look at the Spring Summer 2015 Manish Arora collection.
With the speed fashion moves at these days, it's no longer enough to just make and show lovely clothes, you have to come up with a concept and story behind the collection.
The more outlandish the better. MA have come up with a cracker describing this collection saying -
"The Manish Arora woman has grown into a free-spirited traveller, tripping through pastel landscapes of roses and spaceships. 
Prints are layered in sheer textures to create the hazy effect of double vision and dream state, whilst iridescent embroidery recalls the shimmering sun of long summer days. 3-D embroidered roses and graphic vinyl and chiffon eyes hypnotize beneath holographic panels."
"An inter-play of inside versus outside sees cut away details on prints revealing hidden embroideries and jewellery glinting behind translucent glass nylon and striped knitwear touched with a gossamer lightness. 
Self-reflection is playfully mirrored in pearlescent, reflective embroidery and pleated sequins. Embellishment is infused with an airy lightness throughout. Hallucinatory gods and astronauts float through kaleidoscopic lunar worlds on printed aertex and sporty mesh lined in iridescent lurex. "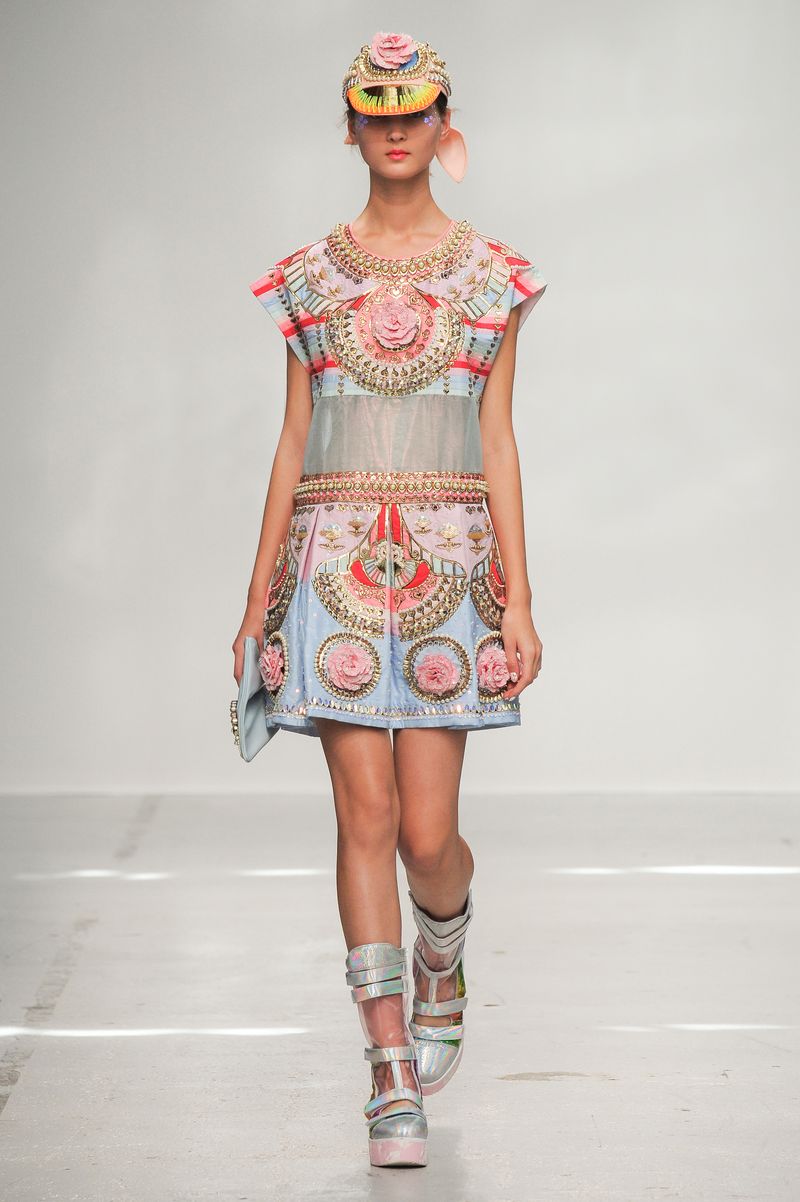 Long, languid silhouettes inject the collection with the relaxed ease of t-shirt dressing, and sporty separates of cycling shorts and glittering tube tops are paired with matching sun caps. 
But at this point I have to ask, who the hell is going to wear a "sun cap"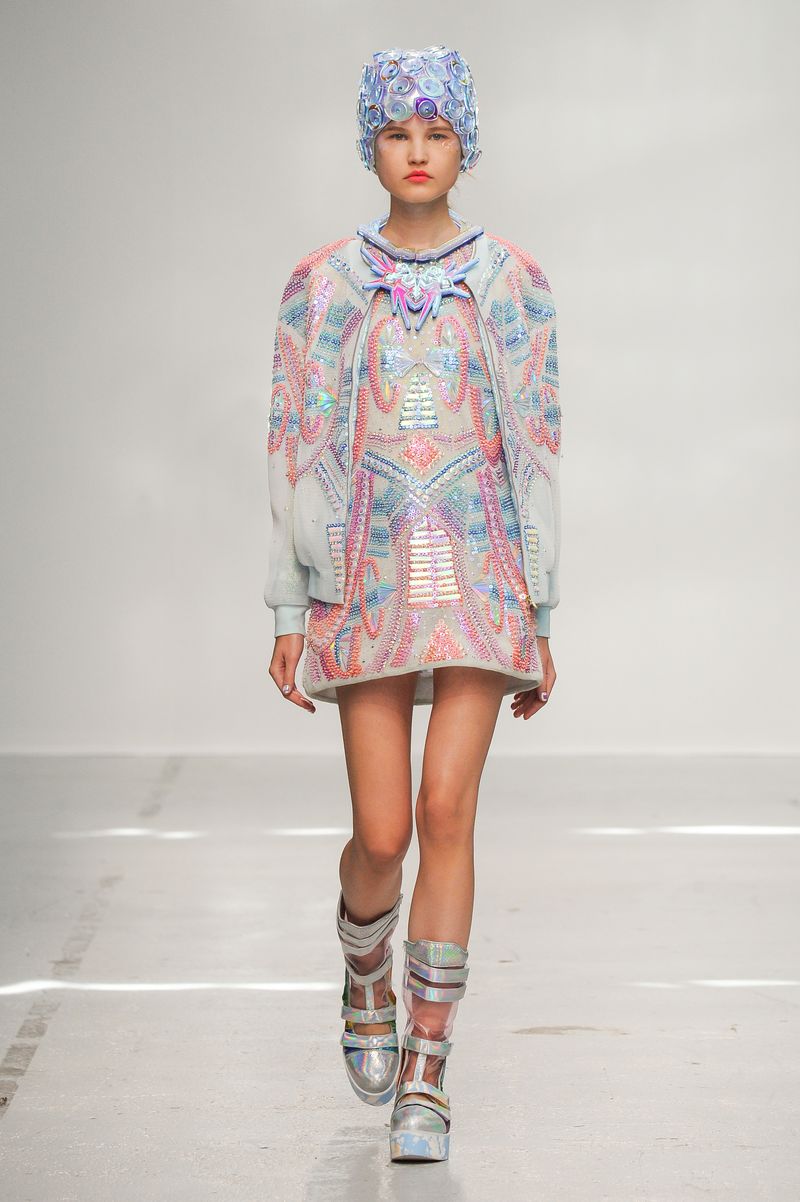 At the end of her journey, an airy sense of enlightenment is achieved and we are fully immersed in the Manish Arora universe, which can now be experienced first hand with the opening of the designer's new Paris store on Rue Rouget de Lisle.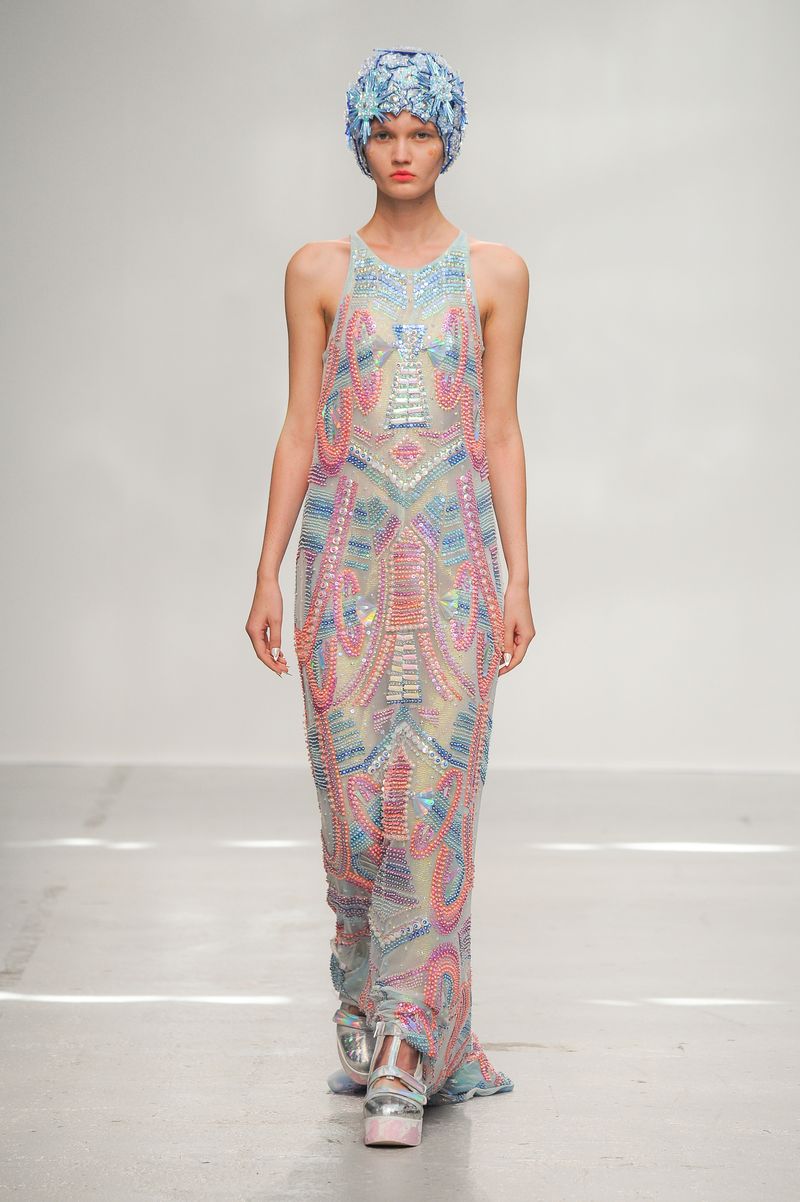 To be perfectly honest, I'm not looking to be fully immersed in someone else's universe, I just want to look at some pictures of pretty dresses on a Friday...
Queen Marie