Hip To Be Square
Until fairly recently, I was never that into knitwear. I guess I always carried with some bad memories of the early 80's where bad jumpers were a part of life. I remember in 1983 me and my best friend Caron going to school in matching, garish coloured batwing jumpers and thinking we were the shit. We really were not the shit. At all. I also remember in 1979 being made to wear an itchy Aran sweater and checked flares to go and see Santa. Needless to say, when he asked me what I wanted for Christmas it was to lose this damn sweater. So, from there on, jumpers merely served a purpose in cold weather - a necessary evil, if you will. But at some point, I'm not sure when, it changed and I found myself actually enjoying buying jumpers.
I'd be lying if I said I was full convert, but I think all of that could change if I were to buy a colourful creation from YuSquare...
I'm hoping to buy this jumper next pay day, if it's still available. The colours are perfect.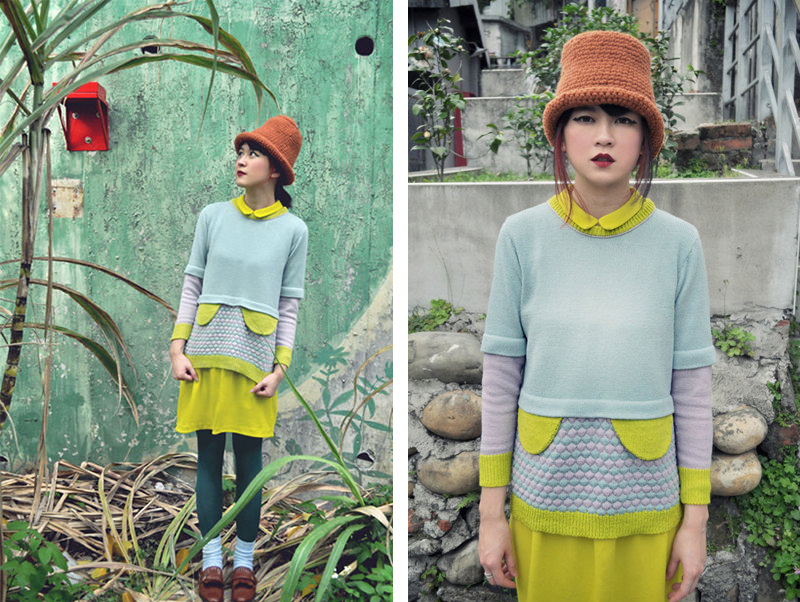 YuSquare is designed by Ringo Yu who is orginally from Taipei, Taiwan. She has been living in London for 6 years and graduated from Central Saint Martins College of Art and Design in 2011, specialising in textile design. 
YuSquare's knitwear pieces are not just bold and colourful, but some of her jumpers are physically very graphic. She skillfully incorporates panels and flaps into her designs and I could easily see myself really enjoying wearing her work.
I think this is an ideal way to get over the trauma of matching batwing jumpers...
QMichelle