Keeping Up With Constance
So we lost yet another pointe teacher. That's the 3rd one to go in 2 years. And we'd only just started learning the Bluebird Variation. Well, that was all but 10 minutes of joy. 
The world of dance is nothing if not a fast moving one, and the downside of having such young teachers is that they have careers to follow, rather than teach middle aged ladies pointe which, apparently, is not a viable career choice. Who knew!
We didn't have high hopes for her replacement, imagining we'd pretty much gone through all the decent teachers in Glasgow. I mentally prepared myself to wave goodbye to pointe. But, like any good Christmas miracle, the unexpected happened and, hoorah, a new pointe teacher came our way. And when I found out who it was I nearly died a fangirl kind of death. It was a young dancer, Constance Devernay, from Scottish Ballet. She trained with the English National Ballet and has been with SB since 2009. Um, yikes!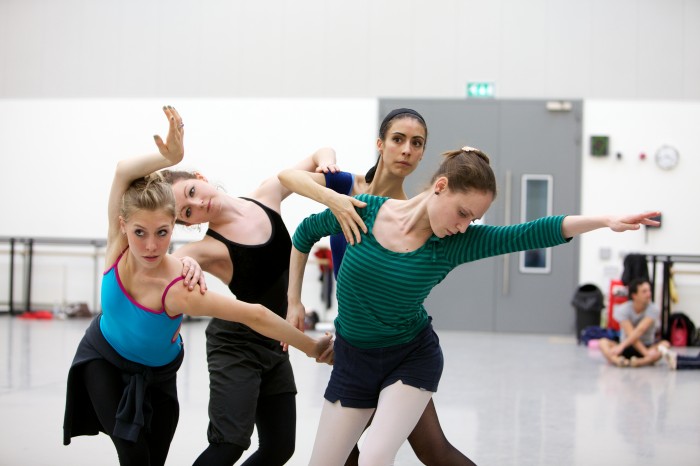 Image from Ballet News (Constance in the blue leotard)
I'd seen her dance a great many times, and I loved her smiling presence on stage, so when I found out she'd be teaching our class I was beside myself with excitement...and I was terrified.
Monday evening was the first class with her. A tiny little powerhouse with a soft French accent, walked into our class, offering up a wide smile. We were so nervous. Getting a new teacher is always scary, but it's especially scary when it's with someone you highly respect and when you know you're not very good. Goodbye self confidence!
She was keen and enthusiastic, which was infectious. Some of the barre exercises were a little fast for us, but we moved quickly onto the centre and covered a lot of things. Most of which I couldn't do, but it was challenging and fun. Our other pointe teachers, with exception of our first one, didn't wear pointe shoes, but Constance did which made a huge difference, as you could clearly see the parts you're meant to be on demi and the parts you're meant to be en pointe, and the transitions inbetween. 
Now she knows what's she's got to work with, I think next class will be even better. She's also going to continue the Bluebird Variation with us, which is amazing. 
All of our pointe teachers have taught us incredibly valuable things, and hopefully with Constance we can take it to the next level.
QMichelle