Rush...
 [youtube http://www.youtube.com/watch?v=quBCjo2rUZg]  
 No not them.
This...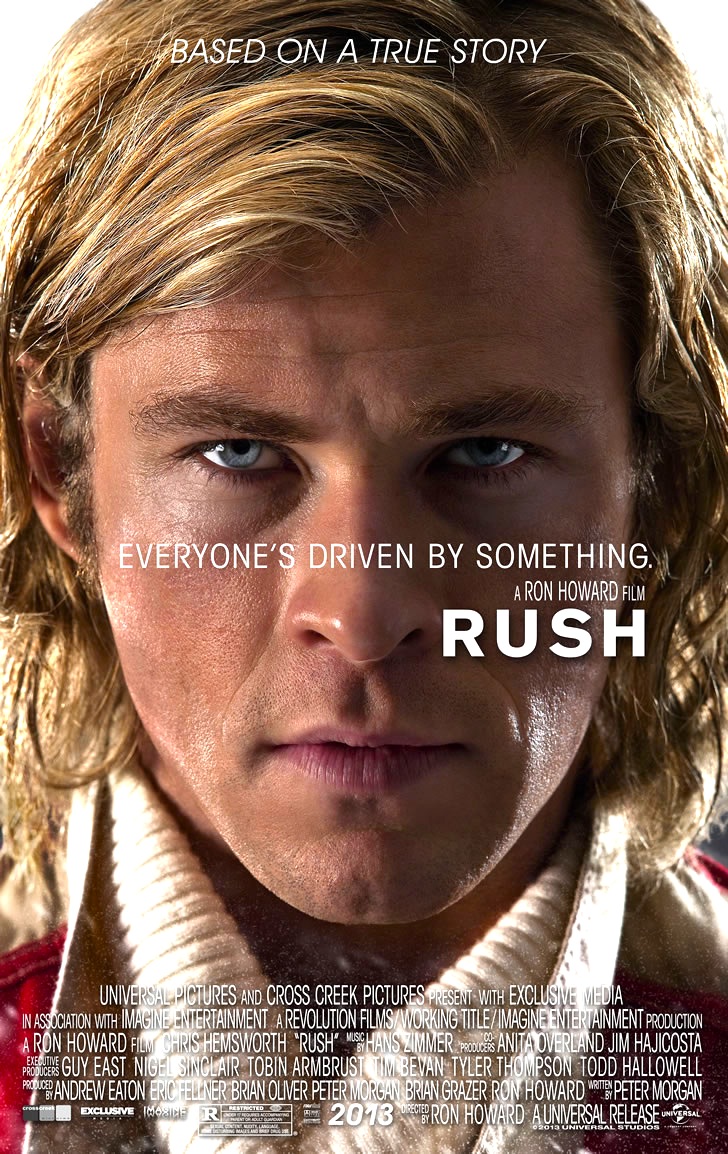 This week saw RUSH debut at the Toronto Film Festival. Oh how I wish I had been there, I cannot wait to see this film... 
 [youtube http://www.youtube.com/watch?v=HPjWmHciU08] 
This is not a Hollywood blockbuster. This is an independent British film that just happens to be directed by Ron Howard!
Set in the high octane world of Formula 1 in the 1970s, this film documents the on and off track relationship between the playboy James Hunt and the fanatical Niki Lauda, two men who could not have been more different in temperament and appoach to their sport of choice
This is the true story about these hard-driving Formula One rivals James Hunt (Chris Hemsworth) and Niki Lauda (Daniel Brühl), whose clashes both on and off the racetrack made the 1976 season one of the most thrilling and memorable in the sport's history.
Rush revisits one of the most thrilling seasons in Formula One history: that of 1976, when two young drivers contested fiercely on and off the track. Austria's Niki Lauda , the reigning world champion, was cool, detached, methodical; a kind of Teutonic metronome, perceived as being ruthlessly efficient but colourless. Across the grid from him was Englishman James Hunt, the hard drinking, drug taking ladies man, who looked every inch the part. What turned their duel into the stuff of legend was the ferocity with which they competed — literally to the edge of death.
"The closer you are to death, the more alive you feel."
If this film  has even 10% of the visceral intensity of the superb Senna, then this is going to be a very special film.
A winning film  in fact...
 Queen Marie
x