sweeter than a sugar stick...
Too much sugar is bad for your teeth
Too much jewelery is bad for your bank balance!
So I've been staying away from Young British Designers, one of my favourite sites for the last couple of months, because I always find too much temptation there.
But at the weekend, I could stay  away no longer. I popped over and was immediately captured by the wonderful work of Lily Kamper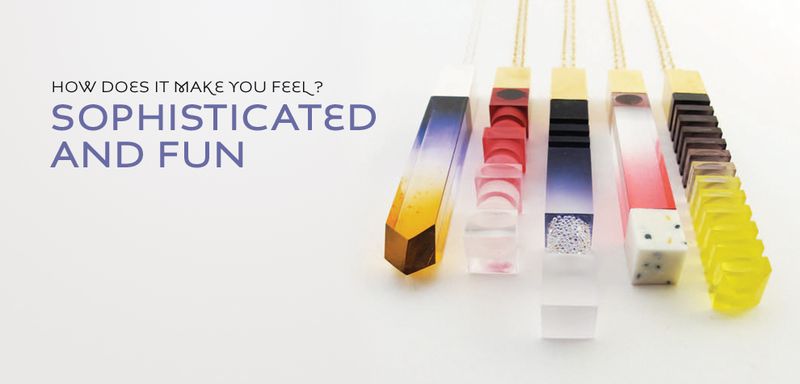 After graduating from the Royal College of Art in 2012, Lily  founded her London based jewellery label, creating pieces that reflect her love of unusual material combinations and designs that embody modern luxury. 
Lily explains her work saying -" I'm inspired by architecture, pyramids and temple structures, I use combinations of hard and soft materials such as printed leather, etched metal and dip-dyed and lathed perspex."
She has been a very very busy girl since her graduation! She has recently been commissioned by WGSN to design and make the awards for their 2012 Global Fashion Awards Ceremony and has recently launched her AW 13/14 collection at Paris Fashion Week. 
 Lily's glorious first collection is a combination of Perspex which is all dip-dyed by hand then turned by hand on a lathe. The materials with the speckles and the texture is Corian which is kitchen work surface material. Lily cuts it into blocks and then turns it again on the lathe. The metal is all gold and silver plated brass and all end caps and findings are handmade too. The dye is a disperse dye which comes in a powder. Lily spent countless hours at the RCA dip dying lots of things until she attained perfection.
 I'm struggling for superlatives to describe how much I adore these pendants. The way they glow is kind of magical and mystical. They are almost like very sophisticated glow sticks for grown ups. Yes they are a sculptural and dramatic but it is in a very sweet and composed way...
Lily's debut collection is exclusive to Young British Designers and Liberty.
I'm actually struggling to choose a favourite but I think I will have to go with the very top one, which really does make me think of a honey dipped sugar stick.
Delicious, just delicious.
Queen Marie
x