Kreuzberg calling...
This weekend saw two days of sunshine followed by a cold rainy Bank Holiday Monday 
It's pretty safe to say, that was probably our Scottish Summer right there!
So there is no sense in messing around, I'm just cutting straight  to Autumn/Winter 2013/14 with this lookbook from Berlin's Boessert/Schorn.
The style of Boessert/Schorn is rough, inaccurate, multi layered and nonchalant. With patterns and cuts that are comfortable and easy to wear,this is fashion without straight lines and classic cuts .
Sonia Boessert is the designer behind the label Boessert/Schorn. She lives and works in Berlin, Germany. The label's story began in Halle, where Sonia Boessert and Brigitte Schorn, her former partner, studied fashion at Burg Giebichenstein University for art and design. With their first project they qualified for the prestigious Hyères Festival International de Mode et de Photography.  
Since 2008, they've been releasing collections twice a year and present them in Paris and Tokyo and since 2010 have also showed in New York. The collection is sold in about 40 selected stores in Europe, Asia and North America.  All items are produced in small European manufactures, also the yarns and fabrics are mainly from Europe, like Italy, France and Austria. 
This is artisan fashion, combining materials with characteristic surfaces and structures especially knitwear in all its variations. Boessert/Schorn worked out special handcraft methods, knit techniques or dyeings, basically inspired by old things, craft, traditional costumes, Bauhaus and DADA. She finds her own design language by draping pattern or unconventional patternmaking out of rectangles.
It goes without saying how much I covet these necklaces...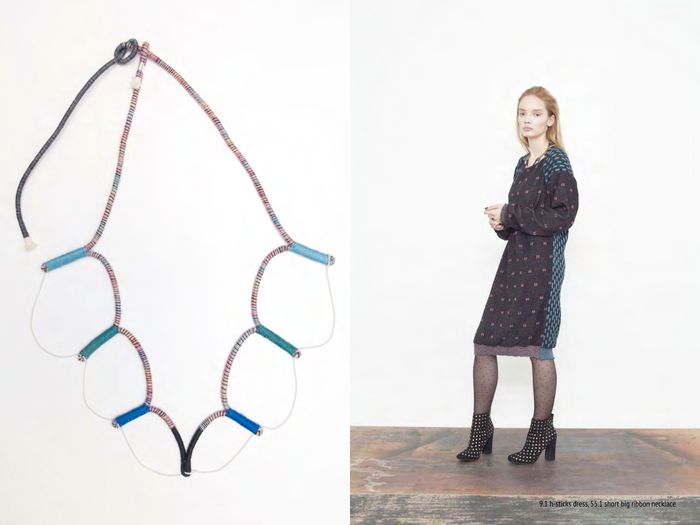 Time for me to start looking at flights to Berlin methinks.
I hear Kreuzberg calling...
Queen Marie
x