Birthday Bloch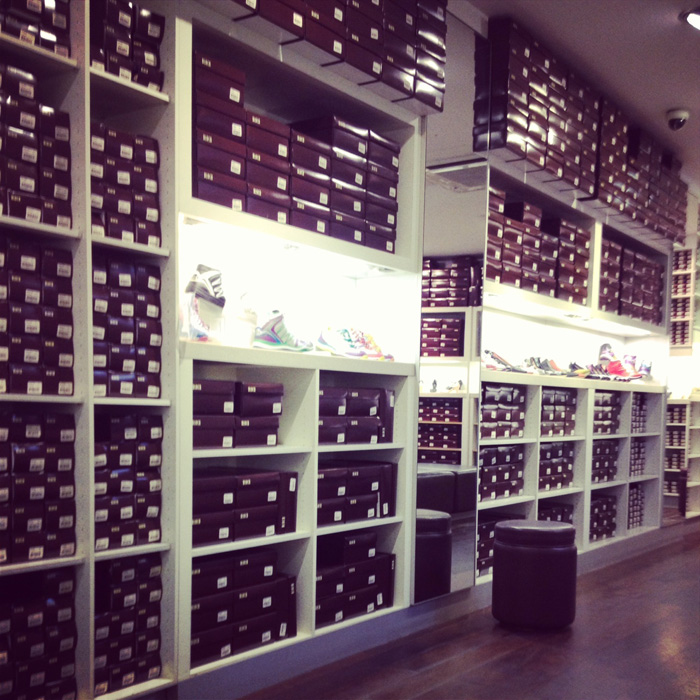 When I was in London, one of the things I was most looking forward to was my pointe shoe fitting at the Bloch shop in Covent Garden. New pointe shoes are part of my birthday from Prince B, so to get fitted at the mothership was an exciting prospect.
Having tried quite a few brands of shoe, it seems that Bloch suit my foot shape best, which is why I chose to get fitted there.
The fitting itself was a quick and efficient affair. In my dance shop at home, I can easily be in there an hour, but in the Bloch shop I was in and out in 20 minutes. I showed the girl my current shoe which, as it turns out, is a very old model Bloch no longer even make. So she found a pair of shoes which are close to the ones I'm wearing currently as a starting point. I put the shoes on and she immediately told me they are wrong for me. Apparently I have very strong, flexible feet and high insteps and so the shoes I've been wearing are just not strong enough to support me. I can easily get over onto the box of every shoe I try and my foot immediately makes the shank go right into my arches, so she needed to get me a very strong shank to support my feet.
I ended up with the Bloch Synergy, which is for dancers with very flexible feet and ankles who need extra support. In the shop there is a TV screen which films your fitting so you can see what it looks like. The girl was really pleased with how my foot looked in this model as it really made most of my instep. I was a little unconvinced as the shoe is much wider than I'm used to to and I feel I sink in to it a little too much. But in the end I bowed down to her superior knowledge because when I went back I saw ballerinas from the Royal Ballet in, so I guess she must have fitted every foot shape.
I've not yet taken a class in my new shoes, but I've worn them in the house and once I took the nail out I literally haven't had to break them in any other way at all, so maybe they will be right after all.
Queen Michelle