meet me at the met...
 I'm writing this on Monday night, and tragic as it sounds, I know I won't be able to sleep properly tonight for excitement.
While I lie tossing and turning, the fashion world will be making their way up my favourite red carpet of the year  at The Met Ball.
This event makes the Oscars, The Grammy's and everything else in between look like a mere dress rehearsal. Like a high octane glamourous train wreck, once you look, you just can't look away.
This year the Costume Institute at the Metropolitan Museum of Art in New York will unveil its new exhibition - Punk: from Chaos to Couture
Punk?
Oh how I laughed when I first found that out, I swear I could smell the panic and hysteria clean across the ocean. The fashionable  great and the good will have had their stylist in meltdown for the last month.
I'm predicting that many of them in their panic, will fall into costume party mode instead of just giving a nod to the theme. They are in danger of forgetting that this is a prestigious red carpet event and not a fancy dress ball.
I'm willing to bet though, that I will lose count of how many times I will see Charlotte Olympia.
To celebrate the retrospective, Mayfair based British shoe label Charlotte Olympia has teamed up with jewellery designer Tom Binns to give an archaic twist to some of its best-sellers.
In their capsule collection, the label's velvet Kitty flats, sport a naughty, safety-pin nose piercing, are embroidered in neon green and pink colourways, and have been suitably renamed 'Anarchy Kitty'.
Binns has also liberally applied miniature safety pins to the Dolly shoe, a court with a chunky, distinctive platform sole in silver and gold, earning them the new name 'Dolly Riot'.
 Another chic nod to the Punk aesthetic sees the brand's cult Pandora Perspex clutch undergo the safety-pin treatment with the bag's inner pouch adorned with mini pins and the usual spider clasp swapped for an enormous safety pin.
'Punk Pandora' clutch, £895            Dolly Riot Shoes £985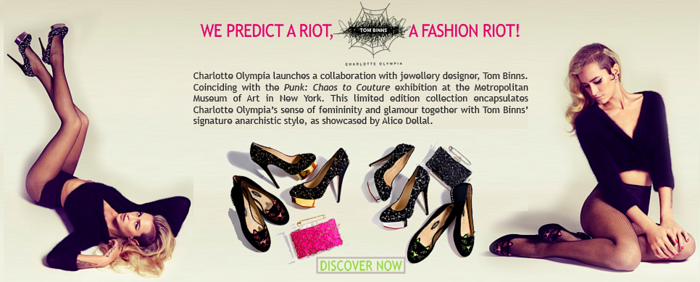 Ok I'll count the Pandora's and you count the Dolly Riots.
Ready steady go, let's count...
Queen Marie
x