Welcome To Hinterland
Welcome to Hinterland
Last night Queen Marie, Prince B and I went on an adventure deep into the middle of a dark forest, about an hour outside of Glasgow. We drove to a seaside town called Helensburgh, where we, with a group of other people, were taken on a minibus deep into the woods. We then dropped off, given some light sticks and told to follow the makeshift path through the forest. It was exciting and kinda spooky traipsing through a forest in the dead of night. All you could really see ahead was the light-sticks of the people in front. It didn't help that the night previously I'd just watched a horror film called The Hallows about evil creatures that occupy the woods and come out at night!
Where we were headed was a ruined Roman Catholic seminary.
St Peter's seminary was built in the 60's by famed architects Gillespie, Kidd and Coia and is one the best examples of a modernist building in the Brutalist style in Europe. Built as a training college for the priests, they left it the 80's as it was deemed too isolated, cold and wet for the priests, who wanted to be integrated into the community, rather than stuck out in an inaccessible forest.
1966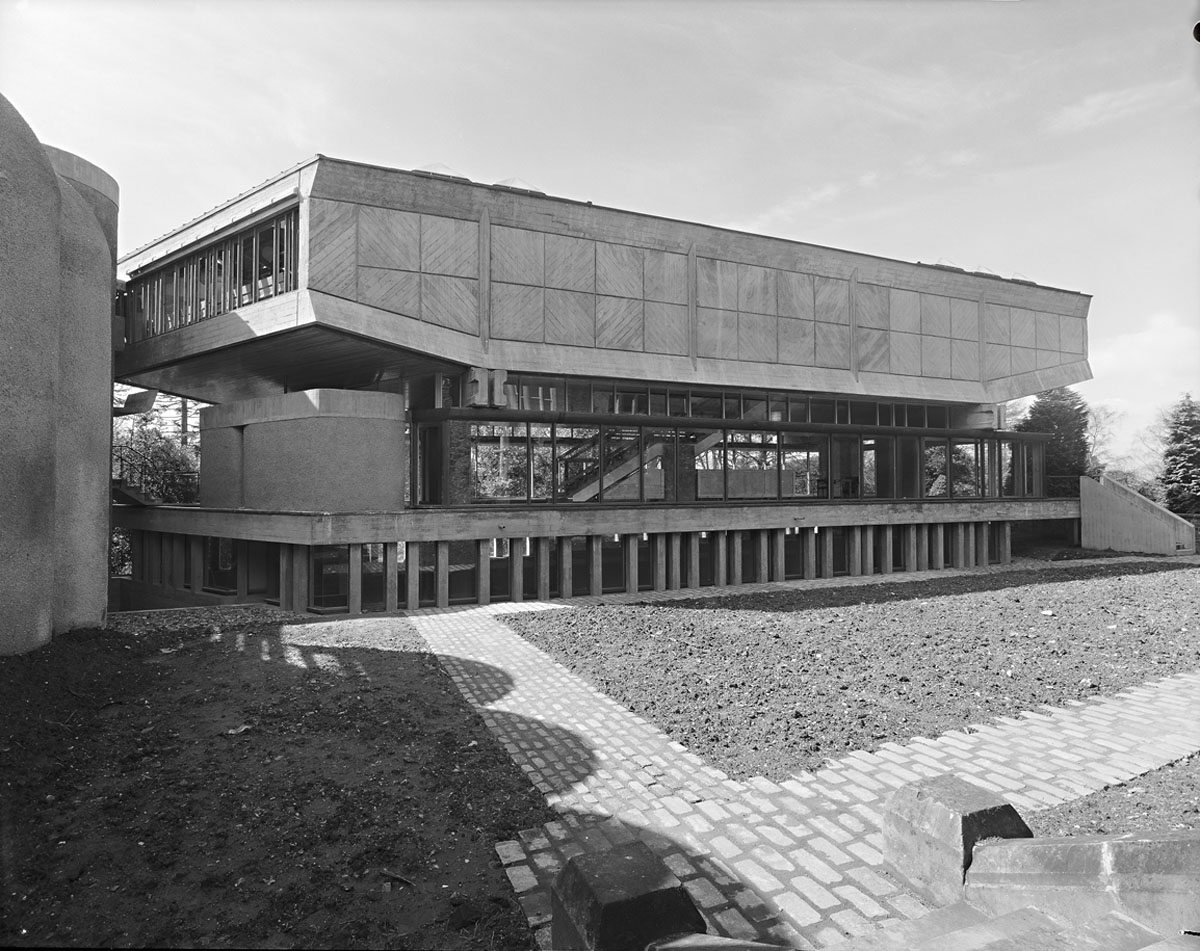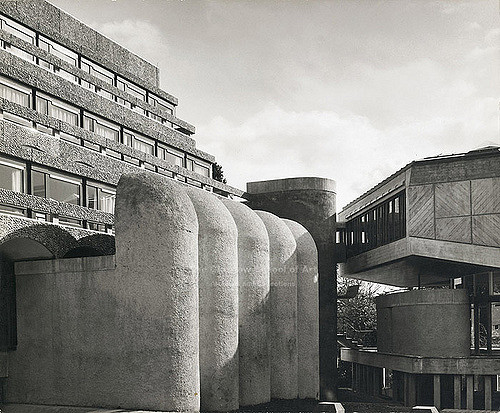 The building was sadly left to ruin and was heavily vandalised.
However, now with backing from the Heritage Lottery Fund (HLF) and a £4.2m lottery fund grant, the building will be saved from further ruin and converted into an arts venue and tourist attraction. The massive project will be in hands of Glasgow-based environmental and public arts company NVA, which specialises in kinetic and light-based open-air installations. The trek into the forest was for their inaugural event, Hinterland.
Hinterland, the new name for St Peter's, was transformed into a breathtaking installation with atmospheric lighting and choral music by composer Rory Boyle. With our light sticks, we were left to wander around the site at our leisure, guided occasionally by men with red lights.
During the evening the ritual of Mass and ceremony of worship is creatively re-imagined. A giant thurible dispenses dry ice (rather than burning incense) and was periodically swung by hand by two shadowy figures.
The NVA have done and incredible job securing the building and clearing away the debris to allow the public to access it. Queen Marie and I had wanted to visit it for a great many years but thanks to the NVA that's now possible.
The only slight downside about Hinterland was that even with their light installations it was still very dark and you couldn't truly get a sense of the actual building. However, with this event coming to a close, the next phase is to turn it into a arts venue and visitor centre so the public can see it in all it's ruinous glory.
(images sourced from Google - please get in touch if you want a credit)