through rose coloured glasses...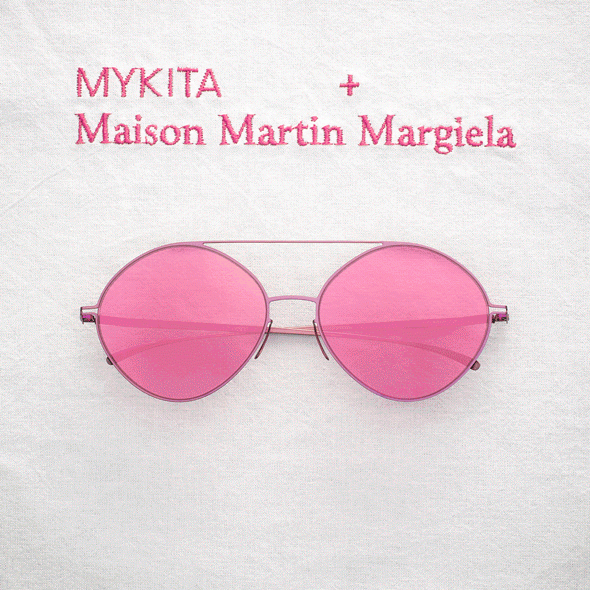 MYKITA + Maison Martin Margiela welcome two new colours and two new shapes to the ESSENTIAL collection: E-5 Pink + E6-Dark Grey, andMMESSE007 + MMESSE008. Consisting of a range of stainless steel frames, the ESSENTIAL collection offers a pure and radical look. Pared back to raw materials, functionality is the guiding aesthetic principle. All frames are sealed with a transparent powder coating, giving the entire construction a convex, all-enveloping body.Available at all MYKITA Shops as well as selected fashion stores and opticians.
With the snow piled up outside the window, what better time to talk about sunglasses!
Queen Michelle and I have sunglasses sickness. We can never ever have enough glasses. Despite the fact that I have two kitchen cupboards full of them, there is still a gaping void  there for a pair of aviator glasses that suit me.
Due to my moon face, I invariably look ridiculous in them. It doesn't stop me  trying endless pairs on every year, often to the huge amusement of Grande Empresse Gillian. This is made much worse by the fact that she has rarely met a pair of aviators that don't like her face. Grrr.
Words alone can't express how much I wish the rose coloured glasses above would suit me, but I know that it's a non starter.
Now if you will excuse me, I'm off to put on my snow goggles and venture forth for my mothers shopping!
Queen Marie
x