all about ebba...
 We are so lucky in Scotland to have so many talented designers and makers.
Today I'm very happy to share the wonderful work of jeweler Ebba Goring
Ebba Goring Jewellery is driven by a love of traditional needlework and a desire to forever preserve the textile skills that have been handed down from generation to generation. Handmade crocheted cotton is cast in precious metal and combined with sparkling stones to create luxury jewellery with timeless elegance.
 Ebba graduated from her Jewellery & Metal Design degree course in 2009 and immediately established a successful craft gallery and jewellery workshop, showcasing work from makers across the UK. However, the desire to create remained strong, leading Ebba to focus solely on her own jewellery business which she relaunched in Autumn 2012.
Now working from her beautiful studio in Fife, Ebba spends her time creating collections for stockists throughout the UK and abroad and working on client's private commissions. Her recent work is inspired by the designer's time living in Kinross on the banks of historic Loch Leven; the setting of a dramatic episode in the life of Mary Queen of Scots!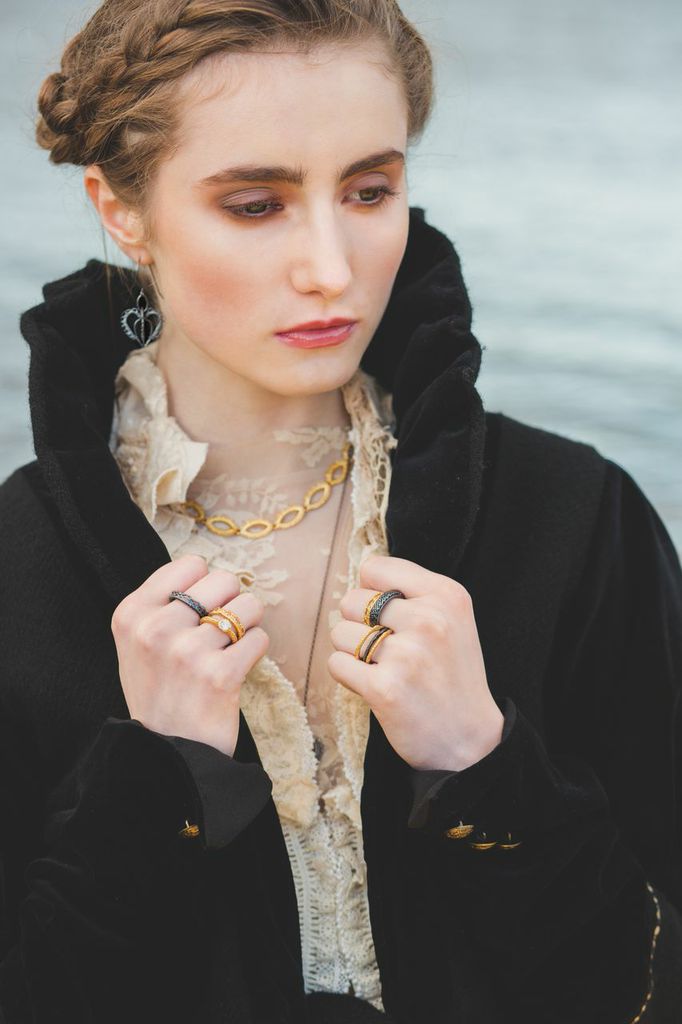 Image credits for Look Book images: Photography: David Anderson./ Stylist: Alexandra Fiddes, MUA: Kimberly Dewar, Model: Joanna Hampson from Colours Agency. / Clothes from Judy R Clark and Kirsty Elizabeth MacLennan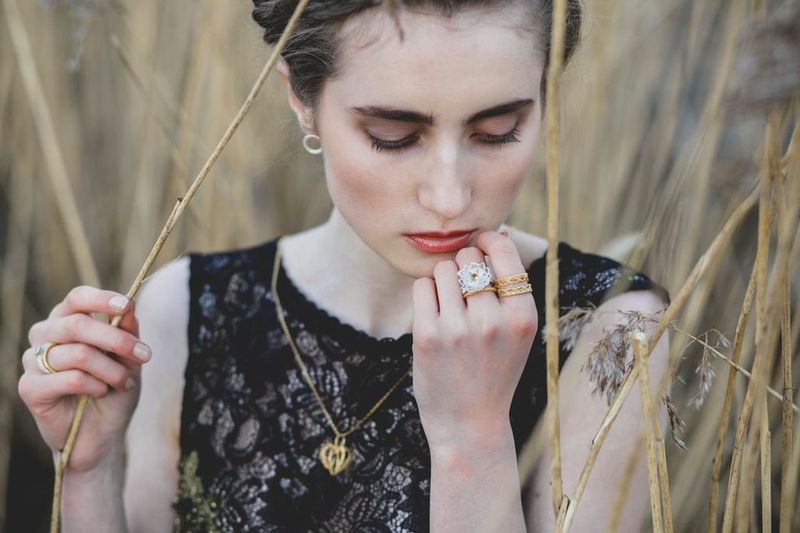 Even though she only just finished moving house last week, Ebba kindly took the time to answer some questions for us about her lovely work...
Did you always know you wanted to create jewels?
My fascination started when I was about eight years old. A family friend brought me back a big envelope of colourful jewel like glass beads from india and I was hooked. I would spend all my pocket money ordering beads from catalogues and making things for little craft fairs. I initially studied music (classical voice) but had a change of heart half way through and decided that it really was Art School for me. Whilst doing my foundation course we did a Jewellery module and I was amazed at how diverse the jewellery discipline is, from conceptual sculptural jewellery, fine goldsmithing to fashion accessories and so many different materials to work with. I love painting and drawing but knew I wanted to work smaller scale and with my hands, I applied for my degree at Duncan of Jordanstone College of Art in Dundee and haven't looked back, I graduated in 2009 and spent two years running a craft gallery and jewellery workshop in Perth before deciding to focus solely on my Jewellery business which I re-launched in Autumn 2012. 
 What came first  for you, the lace and needlework or the metal?
I defiantly made things using stitch and needlework before I got to grips with metal. My mum is an amazing knitter and enjoys all sorts of home crafts in her spare time. We would do things like make hair scrunchies (is was the 90's after all) on her sewing machine and lavender bags to sell in the local florists for extra pocket money :-) I think I had the entrepreneurial spirit from a young age. 
I presume you learned to crochet at an early age, who taught you?
I didn't actually learn to Crochet till I was in third year of my Jewellery degree and had been experimenting with vintage lace and crochet samples. I was really keen to learn these skills myself so went on a few bobbin and needlelace workshops and my mum taught me how to crochet. I also use a lot of simple blanket and button hole stitches in my designs. As much as I enjoyed working with the vintage lace I wanted to have more input into the design of the fabric, embrace the imperfections of the handmade, have control over the form and have a more organic aesthetic.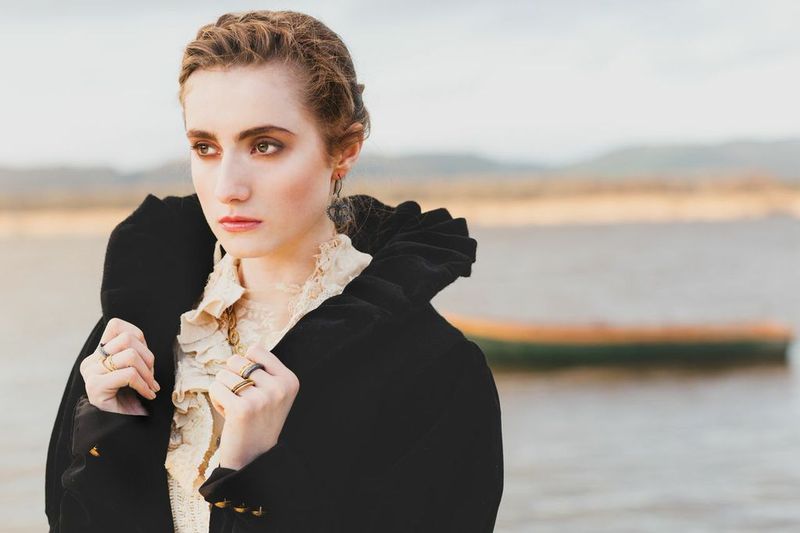 Oh I just love stones, I mainly work with semi-precious ones and they come in almost every colour you can think of. I particularly like Iolite which is a deep purple/ blue colour. I tend to work with faceted stones as can't resist a bit of sparkle.  My preferences change with the seasons too, Citrine and Amethyst in the spring, Peridot and bright blue Topaz in the summer and garnets and pearls in winter. I have also been working with more precious stones recently as doing a lot more wedding and engagement commissions, diamonds are lovely to work with, even a scattering of small ones can have a lovely effect. 
What inspires you?
There are constant threads of inspiration in my work and others that are more transient. The main theme in my work is transforming textile stitched and crocheted pieces into precious metal. I love changing the essence of a material, turning something fragile and soft to something hard wearing and solid. I love the idea that skills that have been handed down through the years can be re-interpeetted into a new material; little crochet cotton doilies into silver earrings for example. Another source of inspiration for me at the moment is jewellery and fashion from the time of Mary Queen of Scots, I loved the recent exhibition about her life at National Museum of Scotland and many of my new designs have a sort of gothic jacobean quality to them, the new Amulet pendant for example was inspired by a large crystal amulet from that exhibition, apparently worn by clan chiefs to protect them in battle. I am also inspired simply by working with the materials and experimenting with new stitches. 
If you could only wear one piece from your collection for the next year what would it be?
Tough question as I wear a lot of jewellery and enjoy picking pieces for different outfits but I would have to pick the Full Heart Pendant, in oxidised silver. The three dimensional lacy heart hangs from a nice long 30" chain, a length I particularly like, it's the most intricate piece I make as each of the four wings of the heart have minute scallop edges. It also goes really well with anything from shift dress to jersey top. It was directly inspired by one of my degree show pieces but scaled down for everyday wear. It was the first design of my Knit One Pearl One Collection which I launched in 2012, so for me it's a real classic piece. 
Describe your work in 5 words (but they need to start with E or G)
Etherial, Glamorous, Everlasting, Graceful and Exquisite 
Who would you love to see wearing your work?
Because of the vintage aesthetic and a good broad price point I love that it appeals to women of all ages, I have had customers age 16 to 85. In terms of celebrities I would love to see wearing some Ebba Goring jewels, hmmm perhaps Zooey Deschanel, Maggie Gyllenhaal, I think Helena Bonham Carter would look great in a pair of oxidised garnet Doily Earrings, and Kate Blanchet in a heirloom necklace and bracelet for a red carpet event. I was pretty hooked to watching the Great British Sewing Bee earlier in the year and thought Claudia Winkleman would suit a pair of knit studs or Lacy heart necklace, will have to send her something for the next series.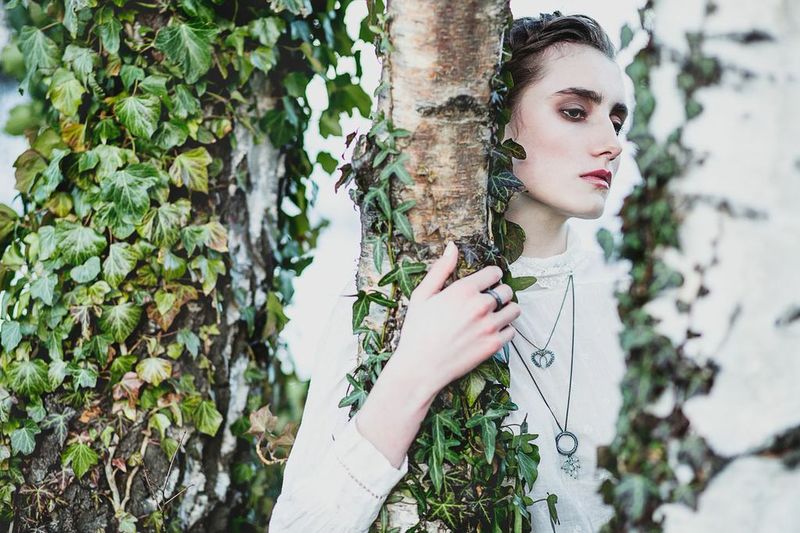 If you want to see more of Ebba's work here are some lovely links to lead the way -
Thank you Ebba for taking the time to share your thoughts and as for my favourite pieces, I love the crown rings and am already planning how I could squash some stitch and stack bangles onto my already overloaded arms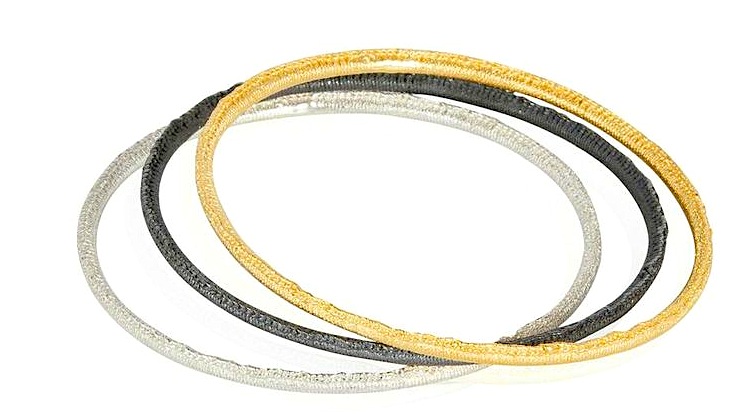 Queen Marie
 x