Listen To My Big Black Boots
Finding the perfect stompy black boots is damn near impossible. I have hunted high and low for many years to find better versions of the paramilitary boots I wore as a teenager. It was hard enough finding women's sizes of the original army boots without trying to find a better version now.
Once again, enter Underground England.
They have been collaborating with amazing brands for some years now, producing footwear which is perfect for alternative girls who also happen to love fashion, like me.
The latest collaboration is with fantastic clothing label Long and takes the form of double sole, steel toecap shoes and 8 eyelet boots with metal detailing.
I'm lusting after the boots but they are sadly sold out in my size. I'm hoping they get them back in again but I'm not holding my breath as collabs tend to not get restocked too often, if at all.
These are the perfect stompy black boots...
I had even considered trying a size bigger than my usual UK5 but was advised they'd just be way too big. The quest for the PBSB (Perfect Black Stompy Boots) has become more urgent with the NIN gig coming up. Metal and punk gigs are not known for having inert audiences so feet do get trampled on therefore I am in urgent need of boots to withstand the moshpit. 
The obvious answer would be to go back to Doc Martin's but my overwhelming memory of Docs is that they are really not comfortable and breaking them in takes forever. I have no patience for breaking in painful shoes now and I know Undergound footwear is comfortable from the get-go and it's already my go-to brand for shoes for gigs, in particular.
So I took to the Googles.
After some exhaustive research and looking at endless images of shitty footwear, I settled on these Frye boots as an alternative.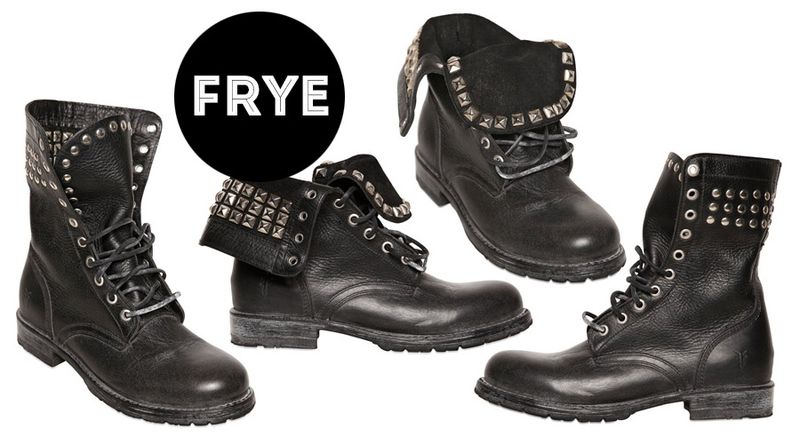 These may not be as cool as the Undergound boots, but they look like they can withstand a good battering. I have a pair of grey suede All Saints boots almost identical, but they cannot cope with the rain and leave my feet soaked every time I get caught out in wet weather.
Definitely a worthy runner-up.
QMichelle