Miista Underwater
A brand we have lots of love for in the Kingdom is Miista. You've seen me wear Miista shoes on here countless times. That's because what Miista do that few other shoes brands or labels do, is to truly experiment with print and pattern on their footwear. Each season their design team become more and more bold with their print and colour palette and SS14 is no different.
This season, entitled 'Aquascapism', is all about the narrative of the sea; "the movement of waves, the balance of the natural world juxtaposed with our modern lives, the iridescent refraction of water and light, the colours present in elaborate seascapes and the idea of capturing the transient. Looking to the ancient representations of the water, the sea nymphs of Ancient Greek mythology embodied the mystical elements of our focus - particularly Thaleia, the nymph of the 'blooming sea.' A playful spirit which perfectly represents the lighthearted collection, her name speaks to underwater flowers, holographic waves and the inherent movement and change of the water. Our design foundation of Measured Madness, the combination of seemingly unlike ideas, is rooted deeply in both the inspiration and execution of this collection through a spectrum of colours, materials and textures."
Pastels are prominent, much to my absolute delight, and this season there are also some ultra feminine espadrilles and loafers, as well as those sculpted lucite heels we also saw last season.
But even more exciting is that for summer we now have Miista bags to add to our wardrobes.
Clutches, shoulders bags and the most beautiful backpack I have ever seen. There is no way on this planet I could allow myself to not buy that bag. I am always searching for the perfect backpack to carry my ballet kit in - well, I think this is most definitely it.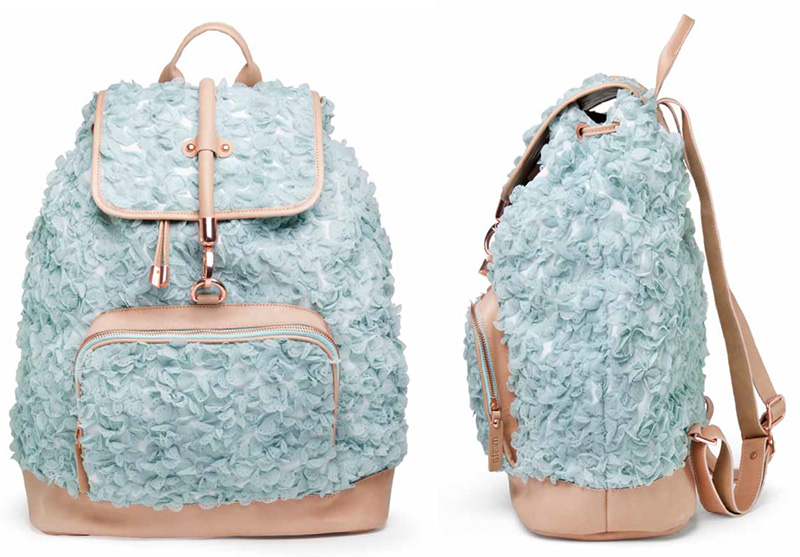 Are you a Miista girl? What's your fave pair?
QMichelle