outside with madge...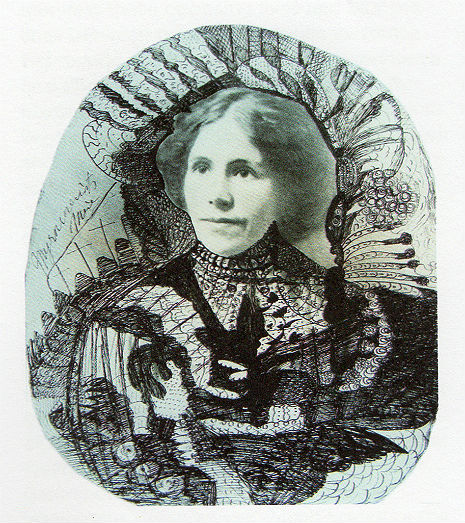 This year it seems that 'outside' is very 'in'.
Or to be more specific Outsider Art.
I had never really heard  or even understood the expression until last year but in the last six moths I have heard it more and more.
Oor Frances is a great  lover of outsider art and one of her favourites is the very wonderful Madge Gill whose self portrait you see above.
 Madge Gill (1882–1961), born Maude Ethel Eades, was an English outsider and visionary artist. Born an illegitimate child in East Ham, Essex, (now Greater London), she spent much of her early years in seclusion and was placed in an orphanage at the age of 9.
She was subsequently sent to Canada to work on a farm, where she stayed until she was 19 before moving back to East Ham to live with her aunt, who introduced her to Spiritualism and astrology.
At the age of 25, she married her cousin, Thomas Edwin Gill, a stockbroker. Together they had three sons with their second, Reginald, dying of the Spanish flu. The following year she gave birth to a stillborn baby girl and almost died herself, contracting a serious illness that left her bedridden for several months and blind in her left eye.
 After recovering from her illness, she took a sudden and passionate interest in drawing, creating thousands of mediumistic works over the following 40 years, most done with ink in black and white. The works came in all sizes, from postcard-sized to huge sheets of fabric, some over 30 feet (9.1 m) long.
She claimed to be guided by a spirit she called "Myrninerest" (my inner rest) and often signed her works in this name. The figure of a young woman in intricate dress appeared thousands of times in her work, and is often thought to be a representation of herself or her lost daughter. She drew this woman in various moods and appearances. Her drawings are characterised by geometric chequered patterns and organic ornamentation, with the wide staring eyes of female faces and their flowing clothing interweaving into the surrounding complex patterns.
She rarely exhibited her work and never sold any pieces out of fear of angering "Myrninerest".
After her first son, Bob, died in 1958 she started drinking heavily and stopped drawing.
Following her death in 1961, thousands of drawings were discovered in her home; the collection is owned by the London Borough of Newham and is in the care of the borough's Heritage and Archives Service.
She is finally being heralded as one of England's premier visionary artists thanks to a major exhibition of her works taking place currently at the Orleans House Gallery in Richmond, London.
Her work is also the subject of a major new catalog, filled with essays (including one by Roger Cardinal, the critic who first coined the term "outsider art," to cover the wide range of artworks created by self taught and visionary artists) including many rare pictures by Gill, most reproduced for the first time.
Get along if you can...
Queen Marie
x