Through The Pinhole
When you are still blogging as a hobby it can be hard to fit everything around all the other things you need to do in your life.
'Hobby' bloggers, even ones who are updating every day with reasonably text heavy posts, don't have the luxury of trawling the internet all day every day for content, going to press days, product launches and fashion shows. How easy it would be to keep a blog going if we were able to do these things. As it is, we fit posts in around jobs and home life. What a god send good PRs are for this very reason. When time does not allow for keeping tabs on designers and websites constantly, they send timely emails to remind you of things that are happening.
I try and keep up with the newer designers but the biggies pass me by on a regular basis, even more so because I rarely buy magazines any more. I can't remember the last time I bought an issue of Vogue.
When I was emailed this lovely image of the Marni Pinhole collection I was overwhelmed with desire. But no-one does handbags and shoes quite like the Italian label. Clunky shoes, verging on ugly, but oh so gorgeous. I was shamed into realising I'd be hard pressed to recall what the last Marni collection looked like. Or Prada. Or any of the 'big' designers. I have devoted nearly all my time to independent designers and I have half forgotten the major houses even existed.
But a pretty pair of Marni wedges would go down very nicely right now. Ah if  only. But it's Friday and we are allowed to dream.
We are nothing if we can't dream once in a while.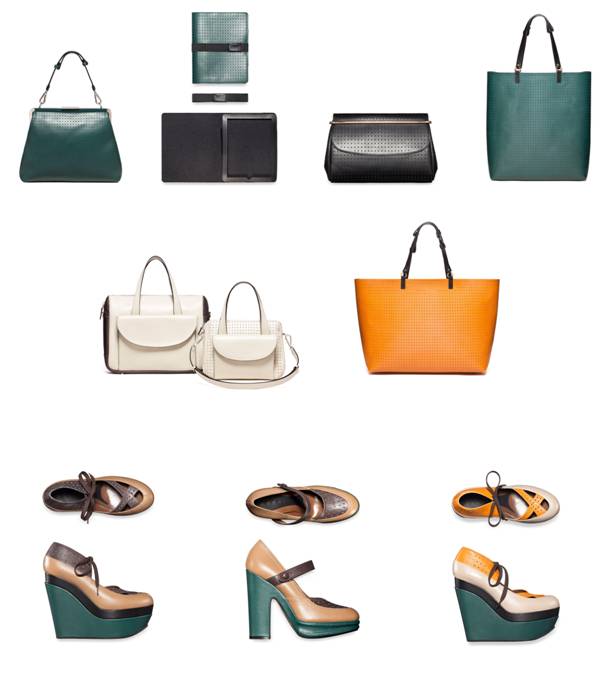 Queen Michelle