Mata Hari Meets Jeanne D'Arc
Hello everyone! I was on a little blog break there for a few days, so thank you to Queen Marie for holding the fort in my absence.
OK, I am almost certain many of you are a little sick of blogger collaborations by now. It must sometimes feel like we pop up everywhere: bloggers as writers, bloggers as models, bloggers as designers...the list seems endless of where we poke our inexperienced noses in. I hope though you will bear with me and see that I am very selective about what I do and who I work with. We, as KoS, refuse interviews regularly, we refuse to appear everywhere and anywhere, preferring to keep our profile low and private, as private as you can online. But some things are just to good to pass up, however, and back in April 2010 I was presented with such a thing.
Bag label, Mata Hari, approached myself and several other bloggers to create a bag for a Blogger Collection. A bag! Well, I'm sure you have guessed by now my love affair with handbags runs long and deep, so the chance to design my own was not an opportunity that could be passed. We had complete free reign on what we created. I could design something, entirely selfishly, that I wanted to carry.
I could take all my interests and personal style and encompass it into something I would carry every day, something to haul my daily life around in. I was pretty damned excited!
What I wanted to do came to me in an instant. I had barely read the email and I had already started my moodboard. My bag was going to be inspired by Joan of Arc and medieval history.
Having read many books about Joan of Arc and The Knights Templar, I knew a cross would feature heavily in my design. Of course, now we are seeing crosses on lots of things, but last year it wasn't quite so prolific, so I didn't realise it at the time.
I set about gathering inspiring images to create my moodboard.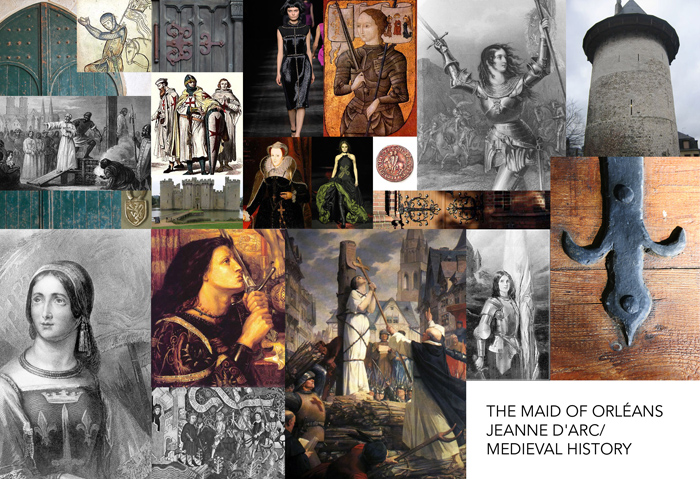 I wanted small references to her armor, to horses and design features of the period. I then set about putting all this together in sketches. Ideas coming together in incoherant scribbles.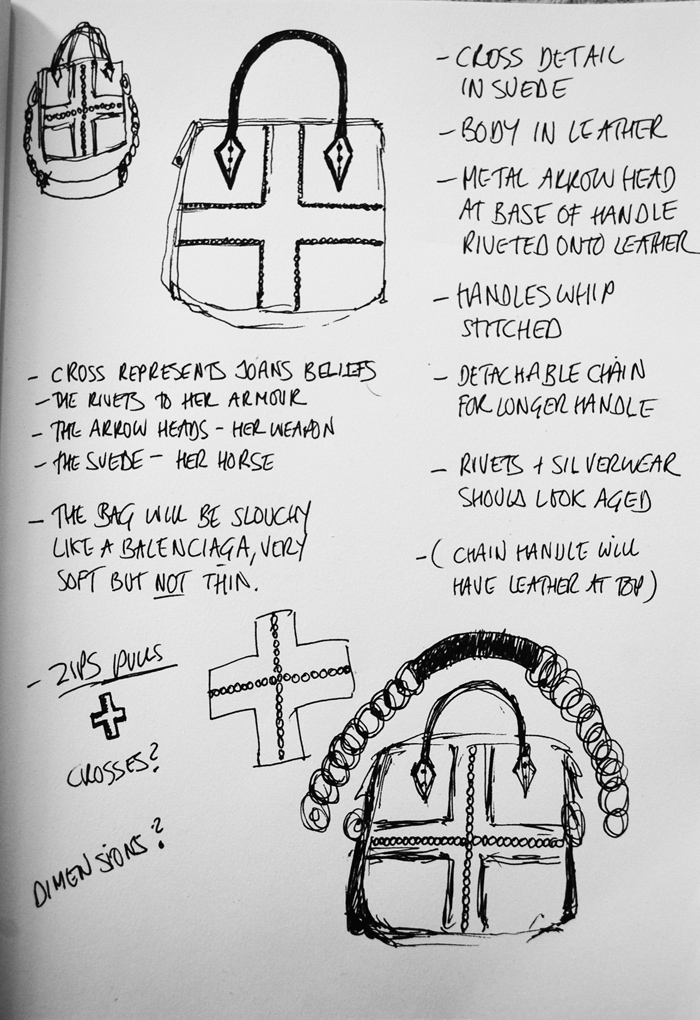 To anyone but me those scribbles mean little, as I can't draw for love nor money! So I created a proper mock up of my idea. I knew, of course, it might not end up exactly like this, but you start with something you ideally want then you are guided as to what's possible. So I created my mock up, noting some reasons as to why I wanted things to look a certain way.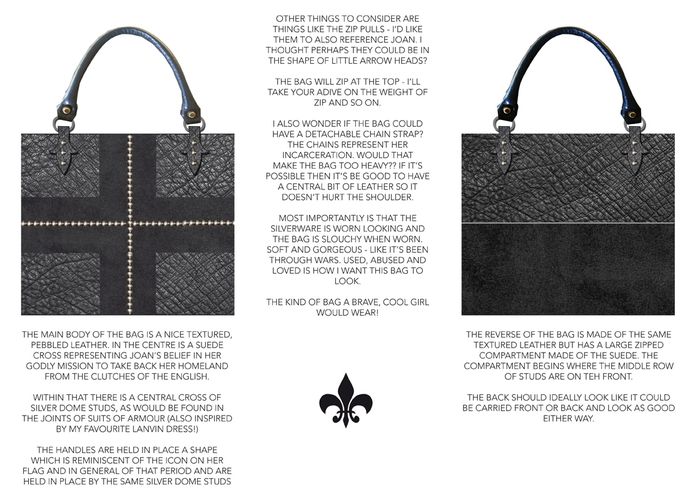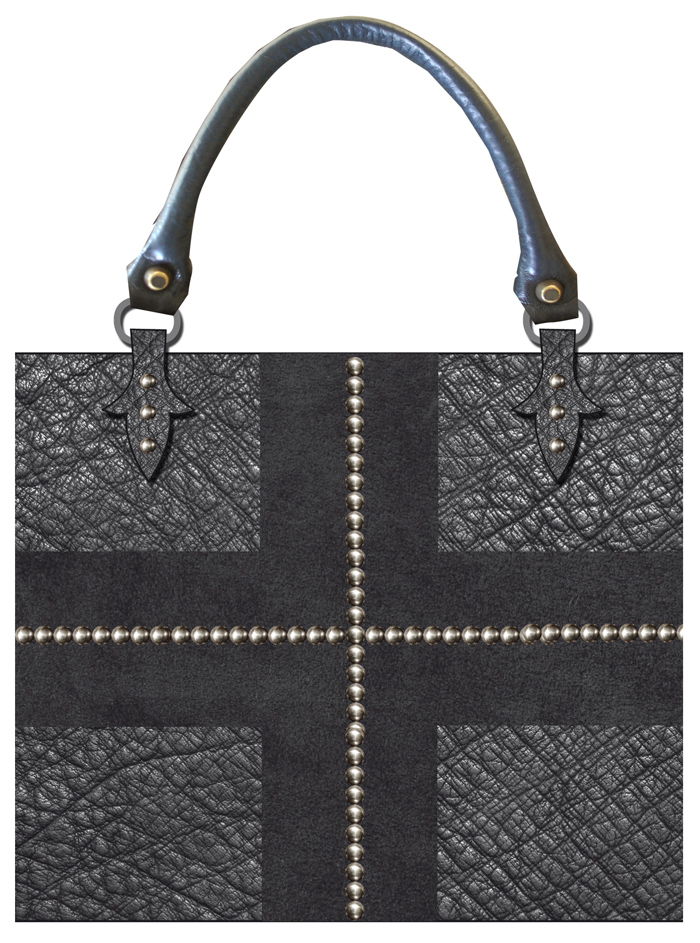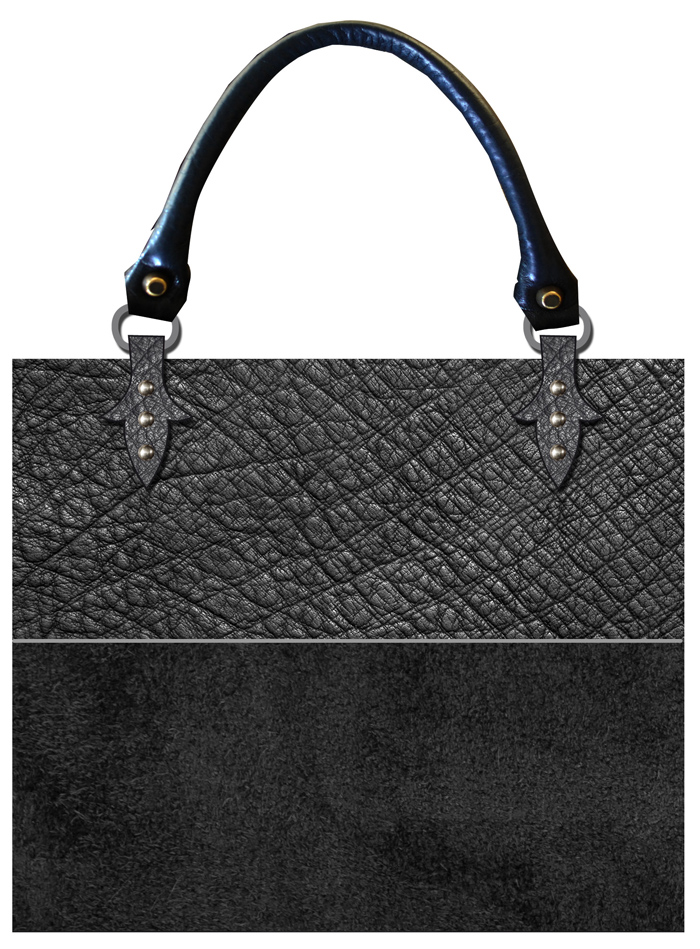 One of the main considerations for me was texture. I wanted the mix of suede, leather and metal to be prominent.
The bag production was held up and delayed and the year seemed to crawl by, but when I saw the sample a few weeks ago I could not have been happier. Here were my ideas actually in tangible form. Something I could carry and use and wear.
There were some compromises on the design, which I had expected - most notably the dome studs weren't exactly as I imagined but I actually still really like them, and we went with metal arrow heads to hold the handles rather than the leather florish.
It was then time for Prince B and I set out and take the photos for the lookbook. We found the ideal location in an old church near where we stay. Look at how perfect the cross handle is on the door!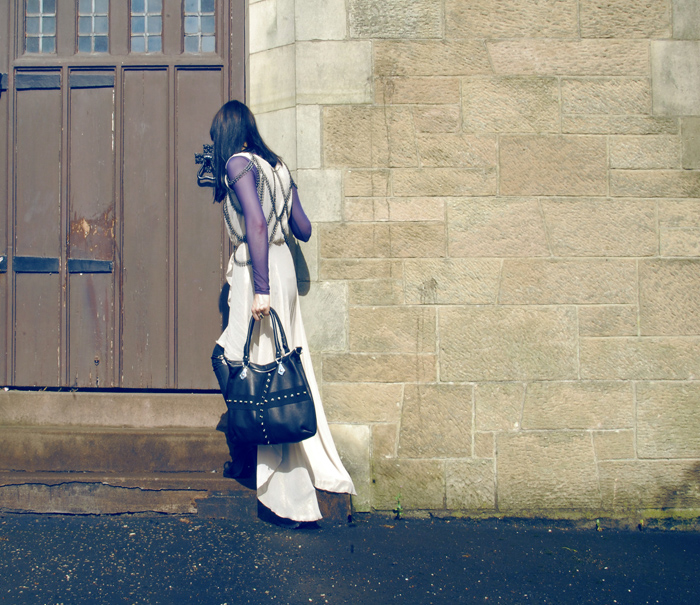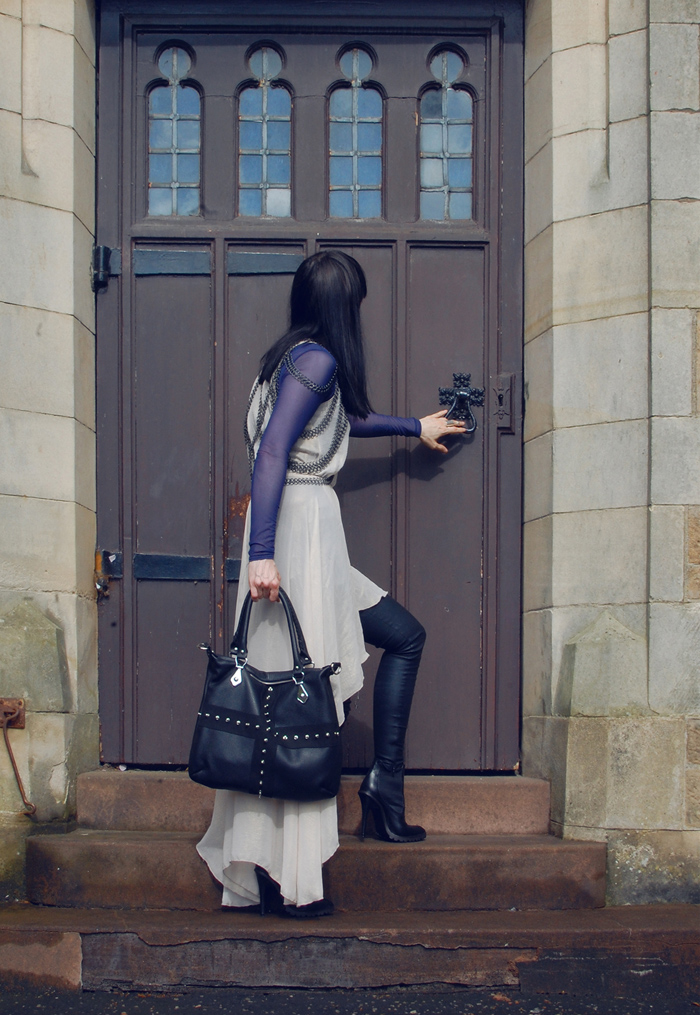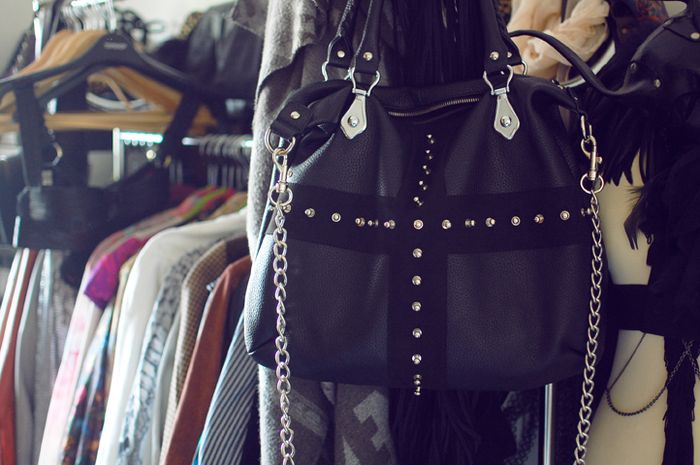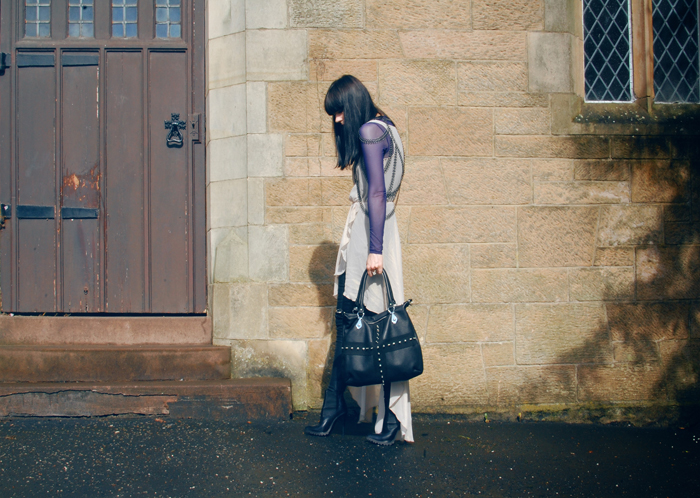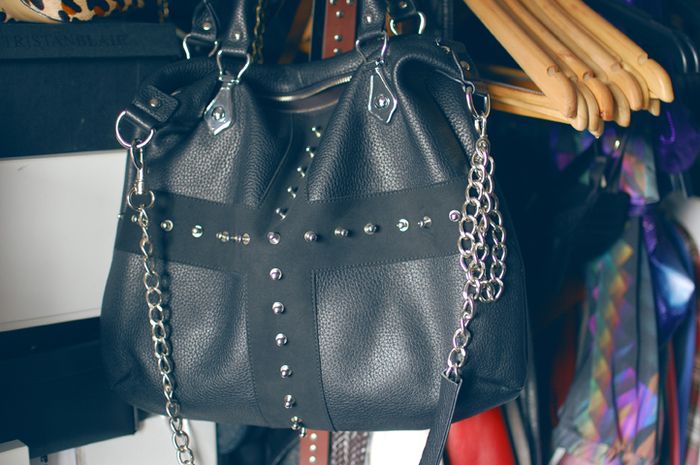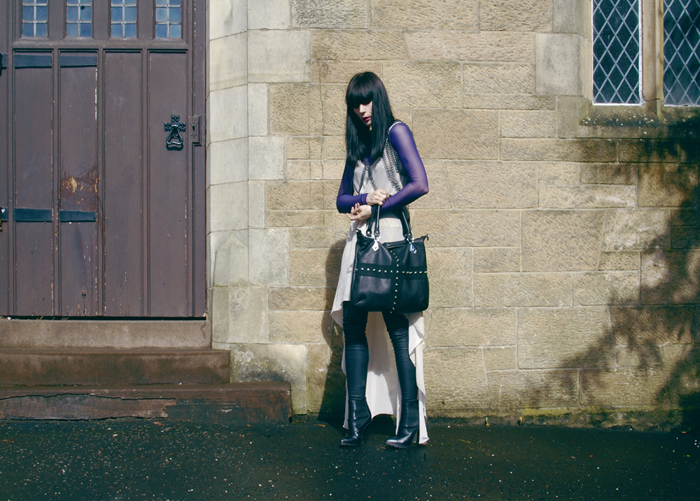 I am not entirelty sure of when the bag is due out but I will keep you updated on any info, should anyone be interested in buying or even stocking the bag in their shop.
I actually felt a real sense of achievement with this one. I felt I designed something tangible and something I am rather proud of. I know it was a risk for Mata Hari asking me to be involved, as I was never going to create anything particularly 'mainstream', but in the end the I got something I love and hopefully, for their sake, so will other people!
Queen Michelle
EDIT: THE PRICE OF THE BAG WILL BE $230 AND I THINK IS DUE FOR DELIVERY IN NOVEMBER