over antwerp's roofs...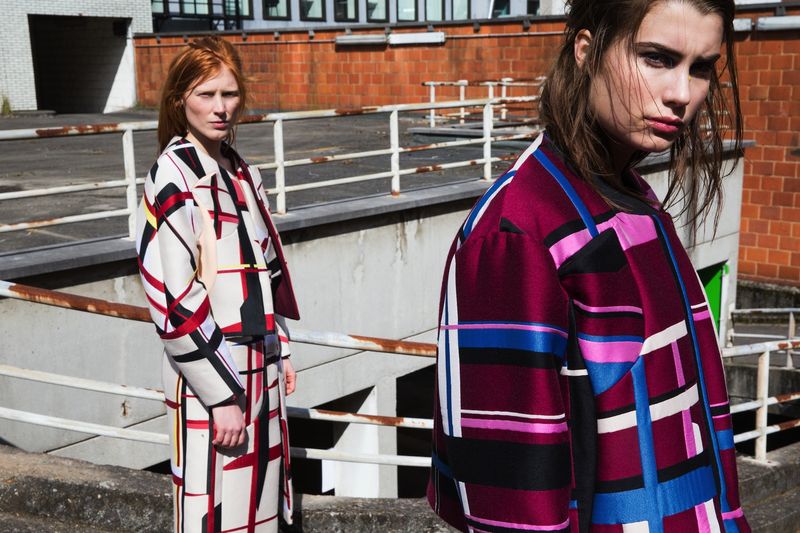 It's years since I've been in Antwerp.
While I was there I was too busy shopping and sitting in wonderful cafes drinking tea and eating cake to look up at all the rooftops.
If I had known there were wonderful clothes up there I would have looked a lot harder.
The wonderful Antwerp based CAPARA have just shot their AW 2015 lookbook up on the rooftops.
The label was founded by the twin sisters Vera and Olivera Capara in Antwerp in 2009. They were born in Sarajevo, Bosnia Herzegovina, and grew up in Germany. Their biggest passion, fashion, brought both sisters to Antwerp, to the Royal Academy of Fine Arts, where they were soon discovered by Dries van Noten who invited them to join his design team after completing their design courses in 2000.
Two years later the designer duo debuted at the "Festival de Hyères", a renowned competition for up-and-coming designers. From 2003 onwards they also worked together as designers in Paris for Maison Martin Margiela creating the Artisanal Line for men and women. In 2007 their paths diverged for the first time and they worked for different houses; for Delvaux in Brussels – the oldest fine leather goods company in Europe, and under Raf Simons for Jil Sander in Milan.
After this meteoric start the duo was finally ready to present its own vision for a label in 2009 – CAPARA was born. The embodiment of innovative yet elegant design is the simple aesthetic vision of CAPARA. Their collections are inspired by literature, film, music or current themes – in the tradition of the Antwerp Six. Brashness is anathema to them: they are masters of subtlety. Innovation, the constant transformation and zeitgeist, the love of all things experimental and the quest for new forms and proportions is what drives the sisters in their vision. Solid atelier principles combined with the ethereal qualities of truly free spirits – those are the singular talents of CAPARA...