No Flaws
I've mentioned this before, but we get a pitiful amount of Scottish graduates and designers approaching us to have their work featured. When we began this blog I had hoped to feature lots of Scottish talent, but I've concluded that either they just don't exist or they are very quiet little people who are too self conscience to approach publications to get their work out there. Or maybe the just think our blog is crap of course!
To be absolutely honest, the Scottish fashion industry is, in general, a bit poor and usually any event designed to showcase our homegrown talent is quite often poorly organised, badly publicised and overall a bit embarrassing. Remember Glasgow Fashion Week? That one event did more harm than good to our small fashion industry. It's also the case that our own talented designers don't get recognition until they've moved to London, where the 'proper' fashion industry nurtures them and guides them and then, when they are well known, the scottish fashion folk, whoever they may be, are suddenly terribly proud and laying claim to them.
Recently I attended the Cardonald College HND fashion show. I put my hands up and say I wasn't expecting too much at this level. But in many instances I was actually really surprised by the level of talent on display. Some students were, admittedly, not so good yet, but others were incredibly accomplished. Sadly the show took place in the middle of Kelvingrove Museum. Nice enough setting but hardly conducive to really absorbing the work. They had also taken the strange move of putting the parents and families of the students at the front leaving many of us, the ones who wanted to photograph and ultimately feature the designers in their publications, stuck at the back unable to see anything. I ended up not taking a single photo and instead had to endure the racket created by two fighting toddlers behind me who, presumably, belonged to an attending family member. A for talent, D- for organisation.
Anyway, I digress. There are Scottish graduates out there, who are very talented, but who need to get their ass to work and approach people to get their work out there. It won't happen on it's own, and it won't come to you.
Thankfully one such proactive graduate is Sian Parker, who just graduated from Fashion Design at Gray's School of Art in Aberdeen, which is brand new course. Gray's School of Art is actually a great Uni but is usually at the bottom of people's list of art schools they wish to attend, with Glasgow School of Art always being the top. I hope this course helps turn the fortune of the University a little because it truly deserves more recognition than it gets currently.
To exemplify the level of talent in the new course already, it produced four of the eight finalists in the Graduate of the Year category at the Scottish Fashion Awards this year.
Sian's collection, 'No Flaws on her, No Imperfections', is based on the somewhat brave concept of "re-branding Valentino by designing a nine piece collection and creating a more modern, unique and distinctive direction for the brand. I designed an all white collection, mirroring the first successful show from Valentino in 1968 which was an all white collection also, creating a new beginning for the label. Each piece is made up of large lettering which makes up the word VALENTINO, therefore all my designs have been draped and manipulated on the mannequin."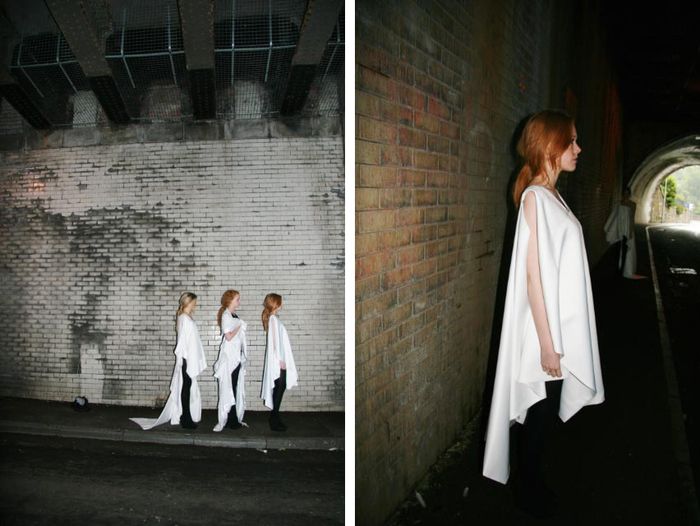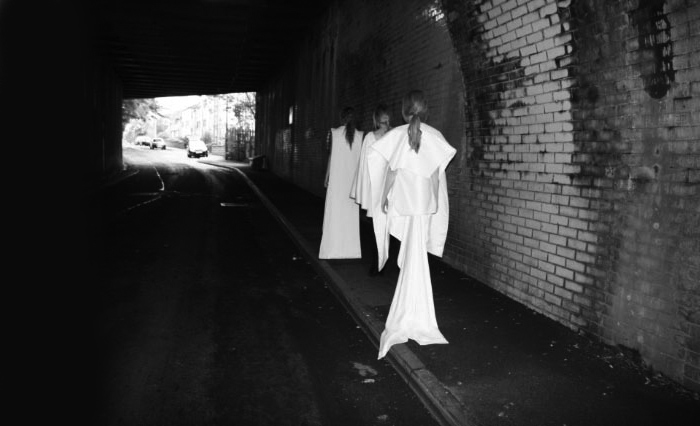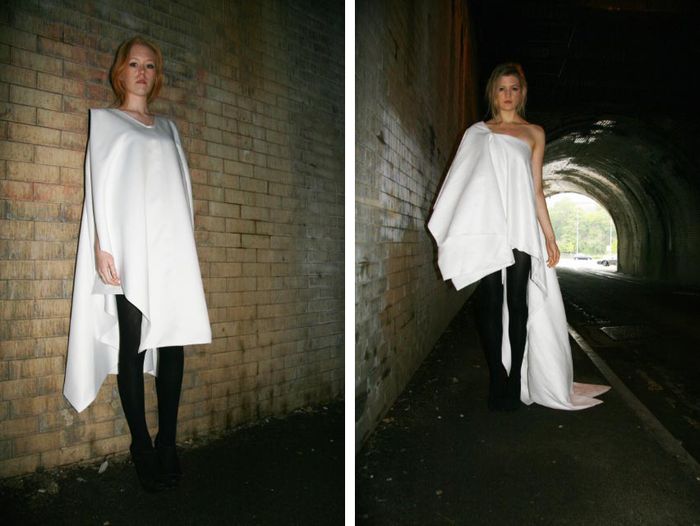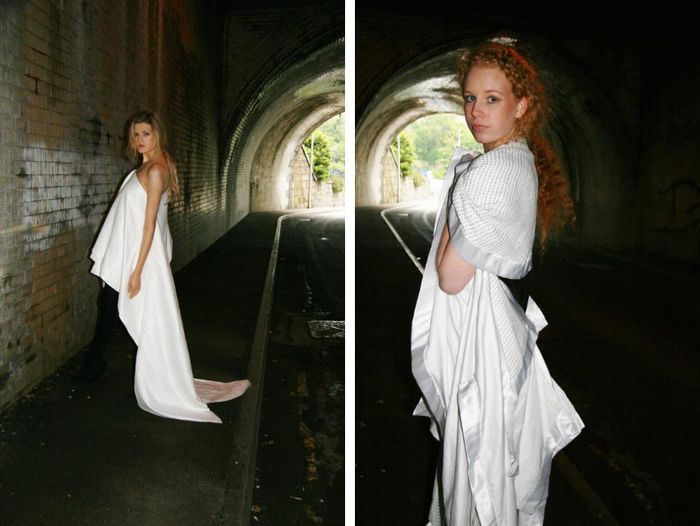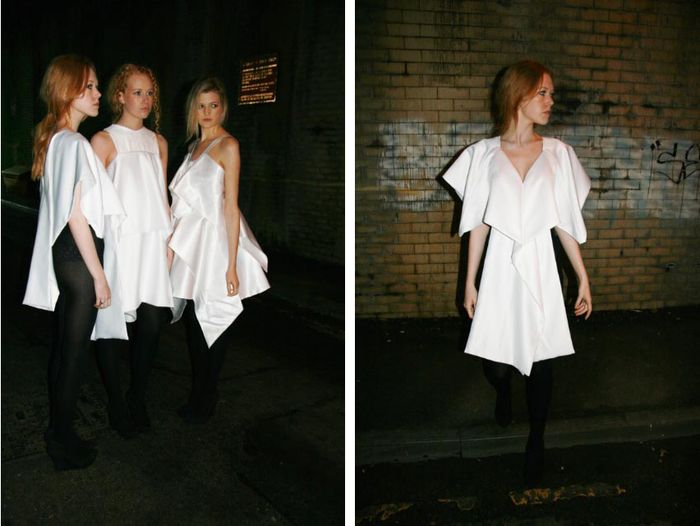 Talk about throwing yourself in at the deep end! The collection is simple and elegant but has an undeniable charm to it. It's natural to expect it to not to have the experienced finesse of Valentino, but I feel she has succeeded in making something more youthful and less intimidating than Valentino. I would be interested to see the collection in real life as I suspect the photos are not doing it justice.
I would, of course, love to team these pieces with ink black leather and a black, tight fitting leather aviator style cap to give the whole thing an edgier feel. But that's just me!
Queen Michelle