Blank
I am so fed up with myself just now.
Stylistically, I am being super boring with hardly any print or colour being worn on a weekly basis. Mostly it's just black jeans, black biker jacket and my denim cut-off. Basically me, 25 years ago. It's as if someone has pressed the 'reset' button.
I hate feeling like this, when I'm not loving fashion that much. Fashion to many be a frivolous endeavour, but for someone like myself who lives a relatively simple life, the joy of clothes and putting together outfits really does make the hours of work and stress a little more bearable. 
I have been including the colourful outfits you've come to expect from me on the blog, but just not as regularly as I once did. Doubtless my mojo will return to me fully in due course, but sadly in the interim I have become a total black borefest. But since this blog is a true representation of us and the things we are into at any given moment, then I'm afraid you will need to bear with me until I can get my colour-wheel back on the road.
H&M dress
Balenciaga boots
Lucette biker jacket
Ray Ban sunglasses
Issey Miyake bag
Federica Moretti bag

I also decided that if I really was going to go back to 'default Michelle' from her goth and metal days, I 'd become a more luxe version myself. That requires some serious duds.
Enter the Balenciaga Ceinture boots.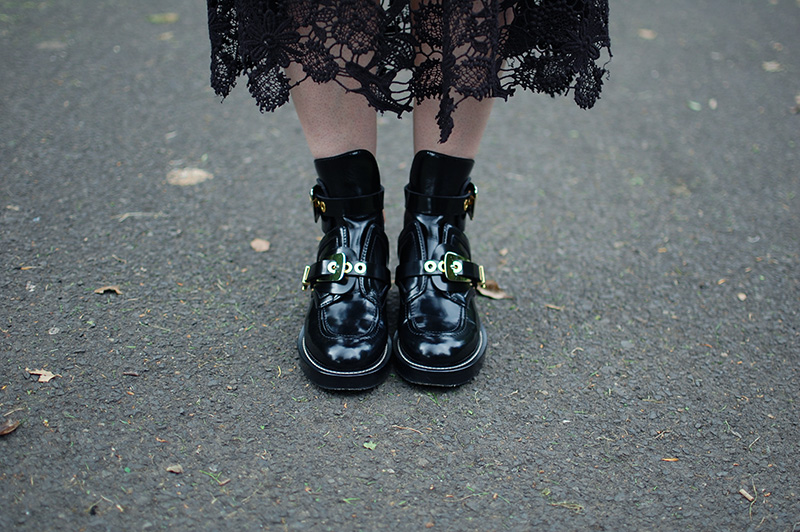 If 15 year old me stomped about in paramilitary boots, then 41 year old me needed something somewhat more special. 
I love them more than words can describe. It's a rare occurance I can buy such luxurious things.
However, I think we can all agree that I've brought the glamourous tone of the boots crashing to the ground. Eh, sorry about that Balenciaga. What can I say, it's what I do. No tiny denim shorts and tanned legs for me. Move along, nothing to see here.
QMichelle