1%er
Having lusting after the Undergound England x Long boots I missed out on, I had to force myself to get over them because I was still left the issue of needing a pair of proper footwear for non spring-like wet weather. And we all know the best way to get over something you want but can't have - you replace it with something new.
Come in Frye studded military boots.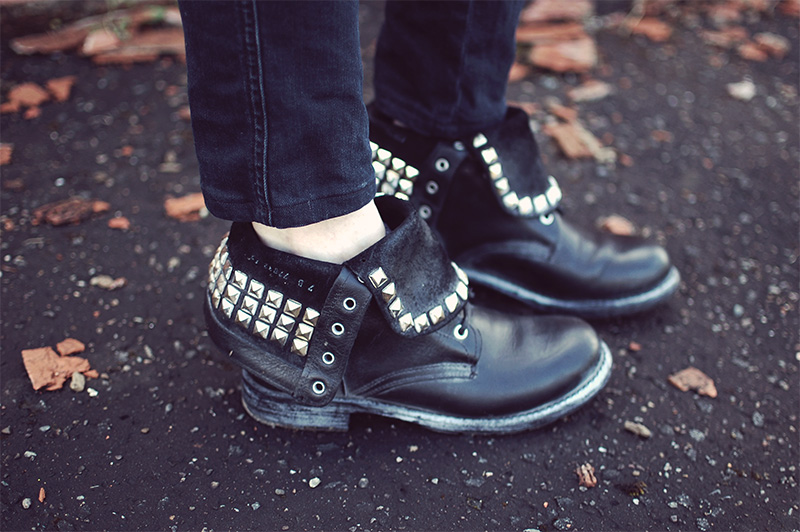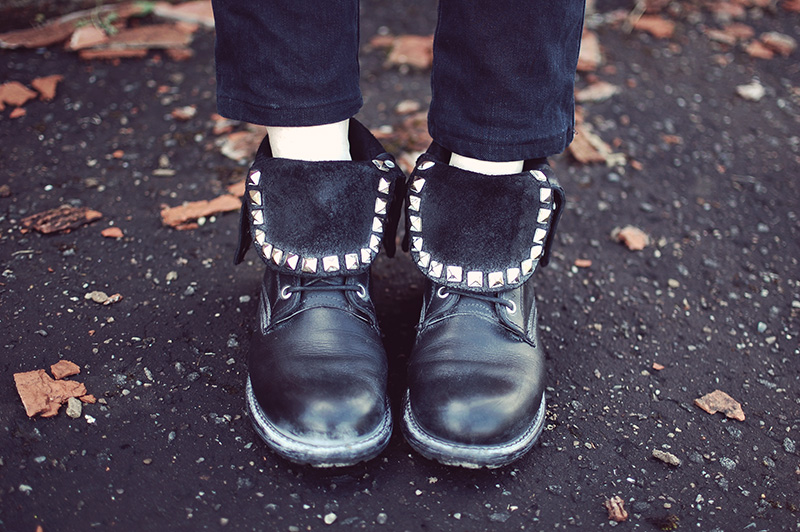 I have a pair of grey suede All Saints boots which are the same style, and I wear them very often, but they leak badly in the rain so my feet end up soaking if I get caught in unexpected wet weather. Plus, grey suede does not hold up well in a dirty situation. Not to mention the fact I really needed some boots that can withstand the rough and tumble of gigs.
These heavy duty black leather versions will hopefully prove Glasgow and gig proof - to be tested at the NIN gig coming up in a week.
I had heard lots of good things about Frye over the years and I am must say I understand why. At £300 they weren't exactly cheap, but they are excepionally well made and quite clearly built to last. I was pleasantly suprised by how comfortable they were from the moment I put them on. 
In terms of an outfit, I'm afraid I'm being very basic at the moment. It's been wet and cold and I haven't been able to muster the energy to wear much beyond jeans and a jacket. Also, do you ever go through phases where you just hate the way you look? I'm kinda in that phase just now where I hate every bit of my body.
I dug out this Topshop fringed suede jacket recently but it's just a bit too cropped for me to wear on it's own, so I'm wearing it under my 5Preview denim jacket from which I removed the sleeves, creating a waistcoat which is perfect for layering over the fringes and for added warmth.
I was inspired by 60's and 70's photos of outlaw bikers and their old ladies.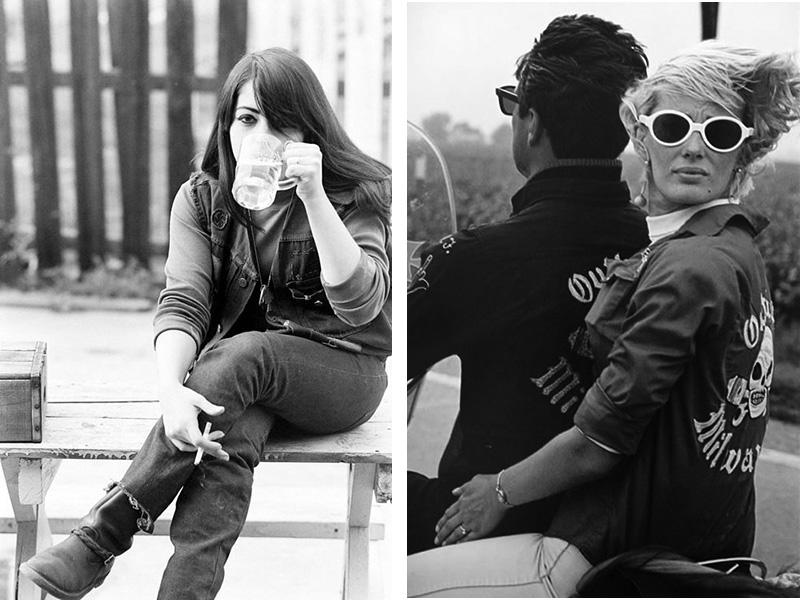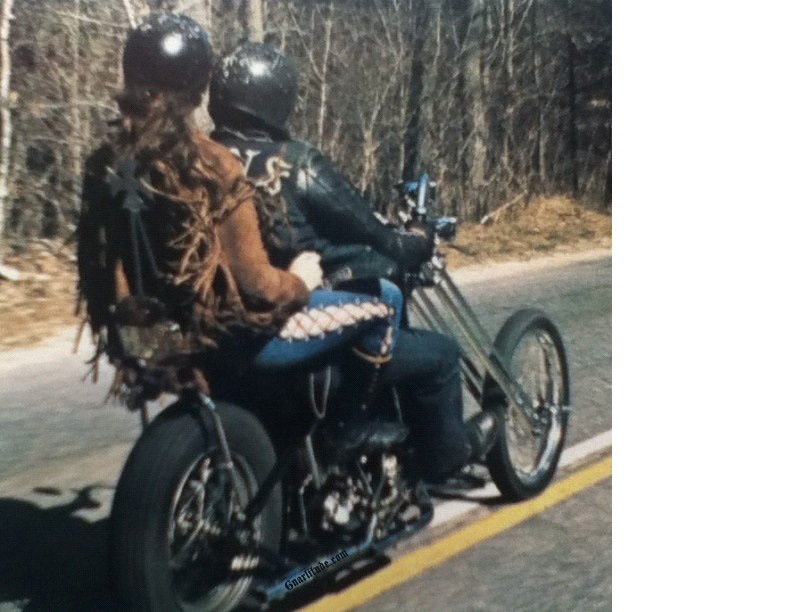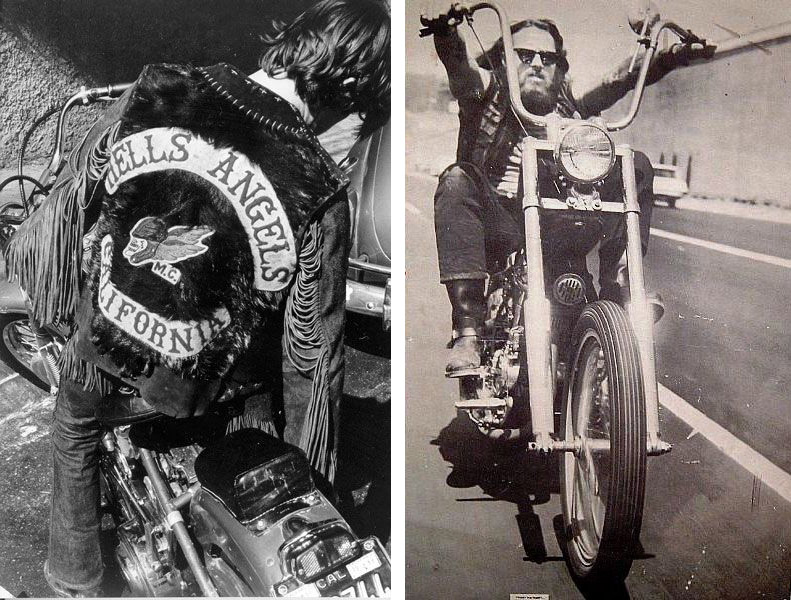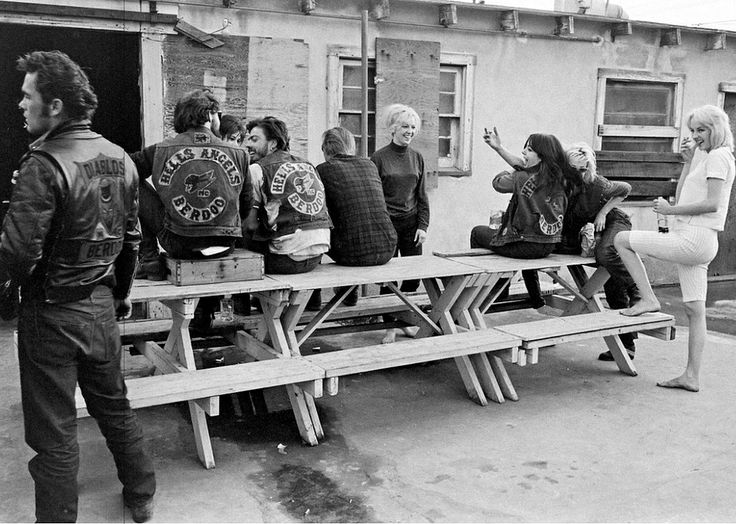 It's basically my fave outfit of late. I swap up the 5Preview cut-off with a biker jacket cut-off or wear the 5Preview cut over a biker jacket.
Topshop suede fringed jacket
MiH jeans
H&M t-shirt
5Preview waistcoat
Frye boots
Retrosuperfuture sunglasses
I was obsessed with motorbikes when I was young and it's all I've ever wanted to learn to drive - never cared about driving a car and still don't.
It was all thanks to my dad who was bike mad.
When he rode home after work, I'd wait at the gate with my bike helmet because every day, my 6 year old self would hop on the back of his bike and he'd drive around the cul-de-sac with me clinging tightly to him with a smile on my face bigger than the bike. To me, it felt like we were driving at 100mph and I was never happier when me and my dad were on that bike.
My dad and I loved each other greatly, but for some reason we rarely spoke to each other all through my life, but when I was on that bike with him I felt so special and I know having his little girl holding onto him so tight made him feel special too. We didn't really need to talk.
When I became a teenager, I constantly asked him to teach me to ride but he was having none of it. He'd been in a few accidents and most definitely didn't want his daughter taking those same risks. Funnily enough, most boyfriends in later life felt the same whenever I mentioned getting a motorbike.
Of course, as years went on practicality overruled everything else anyway - Glasgow is not a great place to rely on a bike as your transport and it's beyond useless if you need to transport anything from one place to another.
In my head though, I'm still that girl riding pillion on my dad's bike.
QMichelle