Forwards And Backwards
It's not very often I can wear outfits I wore in 2010, due to the fact I've had to get rid most of my clothing from then because I'm now two sizes bigger (goodbye size 6, hello size 10). I've had to wave goodbye to lots of cherished pieces, knowing I'll never be that size again. I hate hoarding, as it makes me feel greedy (when I feel I'm hoarding I always imagine myself with armsful of stuff saying "mine, all mine!" and it horrfies me!), so beloved dresses and skirts have been shipped off to new homes who will hopefully appreciate them as much as I did. But time also changes your style, even in only 4 years. Maybe it's age, maybe it's just tastes changing, but in truth even if those things still fitted me, I wonder if I'd wear them all anyway?
A few weeks ago I was on my old PC and I came across a photo from 2010 of an outfit I'd posted on the blog which features two net tutus, camouflage jacket, military boots and my wee skinny legs popping out from underneath the skirts.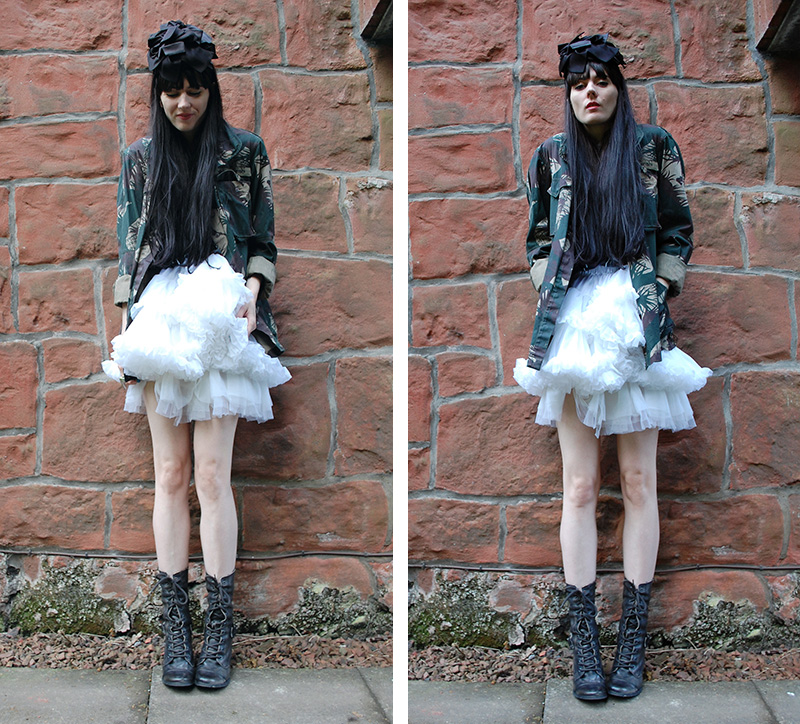 I might not have the skinny legs and all of the hair any longer, but I do still have the tutus and jacket. Perhaps I could still squeeze myself into those tutus?
So I recently I dug out the outfit and luckily I could still, more or less, fit the tutus (thank you kind elasticated waists). I don't have the boots any longer so I replaced them with my Underground England creepers instead and whilst I do still have the Maharishi camou, I swapped it for my Topshop one. On top I'm wearing one of my with Le Tour de Force headpieces and Henry Holland specs.
Topshop jacket
American Apparel tutu
Vintage tutu (worn underneath)
Rhodesian of Edinburgh bag
Henry Holland for Le Specs glasses
Le Tour De Force headpiece
Underground England shoes
I've generally learned in life that you'll never move forward by always looking back, but sometimes, sometimes going back is just what you need to do.
QMichelle