Inspired By
I feature a lot of pretty high end designers on here. I've said this before, but these designers primarily serve as inspiration for me, rather than a mental shopping list of things to buy because, like most people, I couldn't afford these garments.
For example, I take leads on shapes and silhouettes, fabrics or colours from my favourite designers. If you look on my Fashion Inspiration board on my Pinterest, you'll see lots of Simone Rocha, for example, who has inspired me to rediscover broderie anglaise. Infact, I'm so inspired I plan on creating a DIY based on this fabric and Simone's aesthetic.
Another such designer who continually inspires me, is Kirsty Ward. I've featured her many times on here and for good reason. For a designer so new to industry, she has already established herself as having a very recognisable vision.
This season, we see Ward remain on her visual path with a collection which inspired by Ice Hockey uniforms silhouettes and given their own Ward slant with panelled metallic leather stripes, mesh, asymmetric flap tabard detailing.
We see the designer continuing to challenge the use of different fabrics with the inclusion of patent black leather, aertex netting and wool. She keeps to a clean and purposeful palette of pale grey, black, rich turquoise and rustic orange.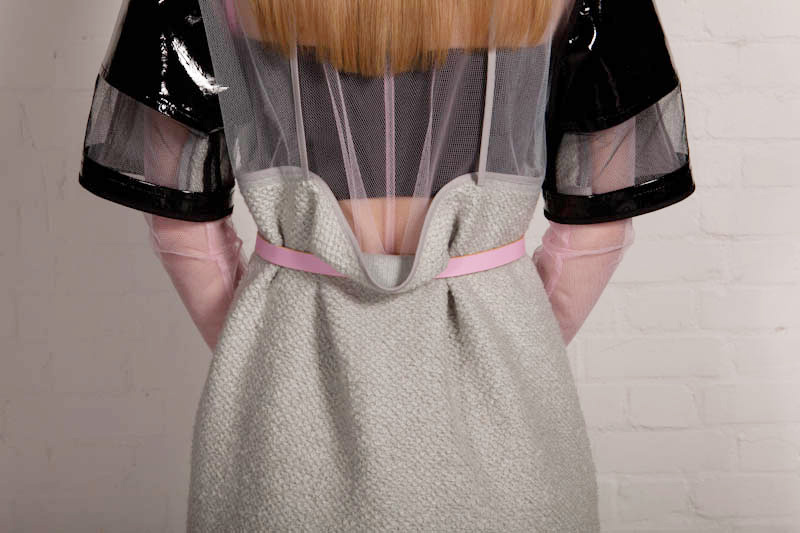 As always, Kirsty's jewellery creations are designed to augment her clothing collection. I wear my own KW necklace all the time, as I'm sure you've realised from my outfit posts. It's one of the most versatile pieces of jewellery I own. This season, her signature use of aluminium wire is updated this season with the use of metal tracks, Swarovski crystals and wooden and glass beads.
This season is also accompanied by a bag collaboration with fellow British designer, Sarah Williams of Williams Handmade. The capsule collection consists of four bags, similar to Ward's own designs, Sarah's clean minimalistic approach to leather forms a perfect foundation to offset Kirsty's bold jewels.