Trying On Torres
I was recently contacted by the rather lovely Scottish designer Rebecca Torres, who recently won the award for Best E-Commerce Site at the BT Scotland Young Entrepreneur Awards. I've written about Rebecca on here before and it's been amazing watching the designer grow her label so steadily and consistently. Her work can now be found on ASOS, as well as in her own shop.
She sent me some things to try and whilst normally I'd run a mile from body-con silhouttes, Rebecca's have such an infectious charm about them I had to set aside my sartorial discomfort and give them a try. I've photographed the lovely JacQ dress, with it's contrasting coloured panels and black spandex bottom. In reality, it wasn't very tight on me anyway so I didn't feel too self conscious wearing it.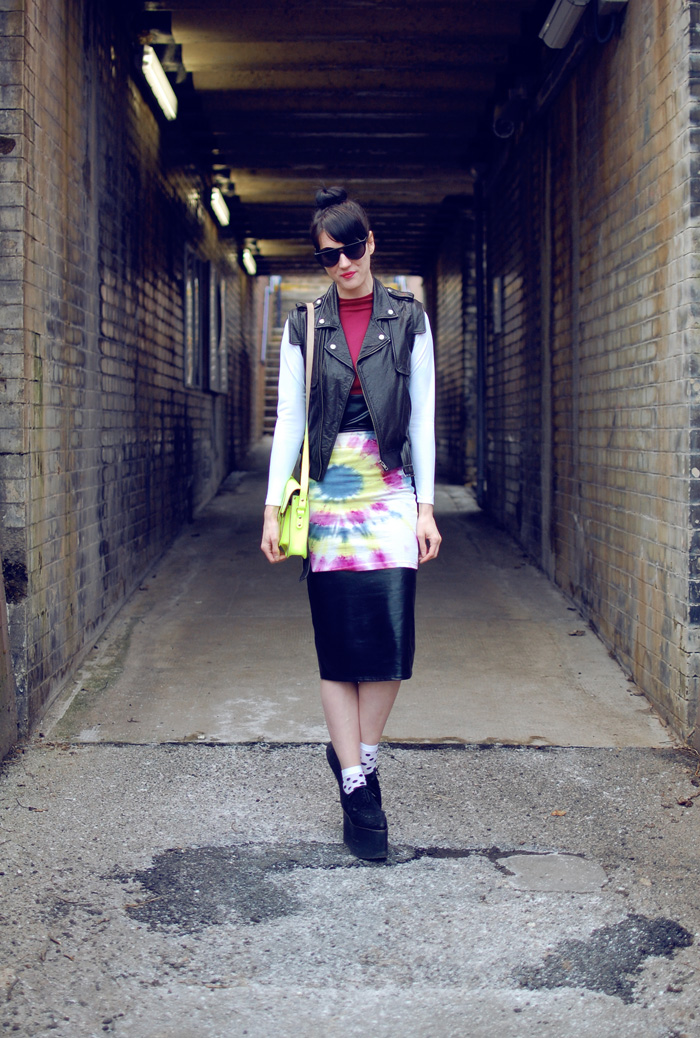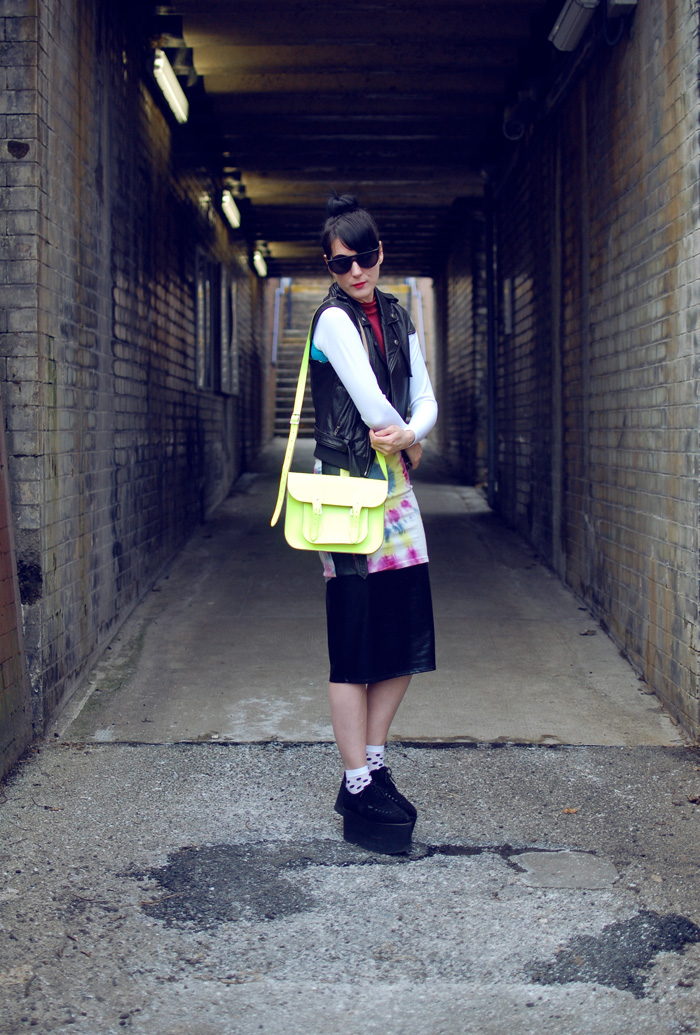 Rebecca Torres dress; Lucette biker jacket; Underground England shoes; Brigit Catiis skirt; Cambridge Satchel Co Bah; Henry Holland sunglasses
I also caught up with the designer and asked her  a few probing questions.
Firstly, let me congratulate you on winning 'Best E-Commerce Site' at this years BT Scotland Young Entrepreneur Awards. You must be thrilled!
Thank you! It was a great night and I was honored to have won. Especially with the website being only one year old.
I feel that in recent years Scotland has gradually become a little more supportive of its homegrown talent. Do you feel the support was there for you when you first started out?
When I started out I did feel alone and unsure about how to conduct my business in an effective way but that was partly due to not being aware of what was available to me both as a young designer but as a business as well. Having carried out some research, I soon realized that there is support out there but you have to make yourself known to these organizations otherwise how can you get help? 
I have had great support from YBS (Youth Business Scotland) and from SDI (Scottish Development International) and also recently from Fashion Foundry. If I have something I need help with they are always sure to put me in the right direction. Plus it's just good to have people who are connected to the industry for advice.
Your label is still a fledging one but you are already stocked in ASOS. How did that come about?
My label is still young in comparison to other brands and getting stocked on ASOS was a great achievement as the brand was completely unknown to them.  It came about very quickly, I had sent my latest collection to an agency in London who had shown an interest in my work and they passed it onto the buyer, within a couple of weeks the collection had been bought, it all happened so fast.  Since being stocked I have been able to work for asos own branded collections and designed a few pieces that went into production for their petite range, this has been an invaluable experience for me.
You seem very passionate about exploring the figure hugging, ultra-femme silhouette. What is it about those shapes that appeals to you?
What appeals to me is how wearing those silhouettes make a woman feel. When you're wearing something that is a feminine silhouette you immediately feel more womanly and sexy. The panels I create on these garments are to extenuate that on the figure giving it more shape or in some cases creating an illusion. Every woman has something that they don't like about themselves and if you can create a garment that hides or masks that by using cleverly placed colour and shapes and it still being body-con, then you're onto a winner.
Who is the ideal Rebecca Torres woman?
I believe the Rebecca Torres woman can be anyone, I don't like to create an "ideal person". If someone can take my garment and wear it in there own way then…great! This might sound clichéd but I like the idea of empowering women, of all shapes and sizes.
Is there anyone you'd love to design something specifically for? A muse perhaps?
There are many women that I think would look great in one of my designs, but if I had to narrow it down I would love to dress someone like Juliette Lewis…maybe create a few stage pieces for her. I like her personality, her boldness. There is something attractive about her persona. Also Beyoncé …but who wouldn't want to design for her, she has a great figure!
Where do you seek inspiration when you are approaching a new collection?
I believe that when creating something new it is important that you approach it in whatever way feel's most organic. Actually trying to discover what process works best for me from a designing perspective was a very cathartic experience. I very rarely research specific trends or looks, preferring to try and find inspiration from many different areas, Film, music but equally moments in my life or places. I think that we pick up so much sub-consciously from our surroundings and experiences that there's no need to try and force it.
Finally, since I love music, I have to probe you about what you're listening to at the moment. What gets you dancing?
That's a good question, actually for my last solo show I gave away Cassette tapes of the soundtrack to the show (not that I'm condoning piracy) but I love when people share what music they love. My tastes shift, but closest to my heart is Electronic and disco music, Just now I'm listening to an album by a collective called Ruth my friend Anna put me onto them, they only every released one album in 1985 then disappeared but it's a great album its called Polaroid/Roman/Photo. Honestly check it out you will not be disappointed.
Queen Michelle